Pickle Music leaves no stone un-turned to prove that it chooses the finest songs & artists in their music albums. And now Pickle Music proudly announces its First Hindi song "Pyaar Ki Rahon Mein" where it is launching the melodiously versatile singer from Ujjain Sadhana Jejurikar & also featuring the talented Deepika Biswas as her Debut work and Actor Yash Kadam in the beautiful Music Video directed by Kailash Kashinath Pawar. Whoever listens to this mellifluous track for once will vouch for the fact that it is one of the most romantic and peppy songs heard lately!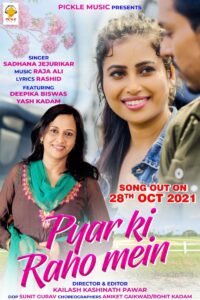 Sadhana Jejurikar is a classical and ghazal singer who has been musically coloring her notes for 30 years. The veteran singer has worked with ace artists like Hariharan, Penaz Mesani, Gulam Ali Khan Sahab and Pt. Vishwa Mohan Bhatt. She has bestowed her voice in a number of concerts (India & Abroad), few films & music albums in various languages. She has also co-authored a biographical book "Ghazal Wizard – Ghulam Ali" which was released by Times Publication in 2013. Sadhana also participated in the musical reality show, Sa Re Ga Ma Pa during the year 1996. Mrs. Sadhana was awarded twice by Madhya Pradesh Government for District Lata Mangeshkar in 1992 – 1993 & was also honored with Vikram Award in 2014 – 2015. She served as a panelist artist for ICCR Delhi in 1994 – 1995 and has worked with the prestigious All India Radio Indore also. Sadhana Jejurikar has achieved many milestones in her career. The latest being the most-loved album – DUAA along with Maestro Ghulam Ali Khan Sahab. Her list of achievements is endless and she still owes her success to her divine gurus in music. While expressing her feelings about the song, Sadhana Jejurikar says, "Pyaar Ki Rahon Mein" has been made with a lot of love and I hope it touches the hearts of the listeners. While recording the track, I sang each and every word from the lyrics with immense love & affection. This romantic track has got the shade of melancholy as well. These days, a lot of songs come and vanish, hope 'Pyaar Ki Rahon Mein' stays in people's hearts forever."
Song link 
The song "Pyaar ki Rahon mein" is a peppy dance number where pretty Deepika has rendered her grace & energy to a great level. "Pyaar Ki Rahon Mein" has been trending ever since it was released on Pickle Music's YouTube channel, Music channels and all the major audio streaming platforms. The kind of love it has been receiving soon after a few hours of being launched, shows that music made with honesty always pleases everyone.