Anand Pandit Motion Pictures LLP and Goosebumps Entertainment are back with a new movie after the success of "Ti & Ti" & "Well Done Baby". This film is produced by Anand Pandit, Roopa Pandit, Pushkar Jog & co produced by Vaishal Shah. Recently the muhurt was held and the big budget film will be shot in Scotland.
The film stars Pushkar Jog, Sonali Kulkarni and Ashay Kulkarni in the lead roles whereas Actress Hira Sohal is making her debut.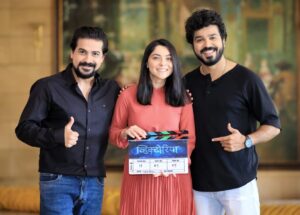 Jeet Ashok and Virajas Kulkarni are also making their directorial debuts. The story, screenplay and dialogues of this film are written by Omkar Gokhale, Jeet Ashok and Virajas Kulkarni.
This is the third Marathi film jointly produced by Anand Pandit Motion Pictures and Pushkar Jog's Goosebumps's Entertainment. After "Ti & Ti" and "Tamasha Live" this film also marks a Hat Trick for Pushkar Jog and Sonali Kulkarni pair much appreciated by audience of Maharashtra.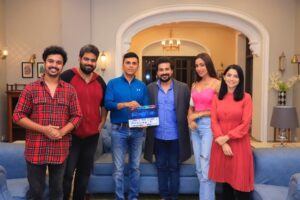 Pushkar Jog did his acting debut at the age of 4. He did his debut Marathi film Jabardast in lead role. He also appeared in Hindi films like Goodbuddy Gadbadi, Don't Worry Be Happy, Huff! It's Too Much, etc. Pushkar also worked in Television shows like Nach Baliye Marathi, Tu Tu Main Main, ABP Majha Around The World etc. In 2018, He appeared in Bigg Boss Marathi 1 as a contestant. He has done films like Vajavu Ka, Sun Ladki Sasarchi, Sakharpuda, Raosaheb, Mission Possible, Sasu Cha Swayamvar, Satya, Raju and more.
After working as a model in her early career, Sonali Kulkarni made her debut in Kedar Shinde's film Bakula Namdeo Ghotale. She is noted for her lavani dance song, "Apsara Aali" in the Marathi film Natarang, followed by Kshanbhar Vishranti, Ajintha, and Zapatlela 2. In 2014, she was seen alongside Swapnil Joshi and Prarthana Behere in Mitwaa. She made her Hindi film debut in the adult sex comedy Grand Masti