A renowned Producer of the film industry, Ajit Arora, who is best known for his super hit film '377 Ab Normal' which did remarkably well on the OTT platform, is all set for his new movie UNAAD, which stars Ashutosh Gaikwad, Hemal Ingle, Abhishek Bharate, Chinmay Jadhav, Sandesh Jadhav, and Devika Daftardar.
UNAAD was recently selected as the official entry for the international competition of feature films in the youth section at the Zlin International Film Festival held in the Czech Republic. It was also selected for mega premiere (2022) in prestigious film festival of India MAMI (Mumbai Academy of the Moving Image).
While speaking about his upcoming film UNAAD, Producer Ajit Arora said, "I am very happy to announce that our movie UNAAD is going to be released in theaters by Summer  2023. It's been meticulously directed by Aditya Sarpotdar. Our entire team has worked very hard on the film. I am sure that audience would love it."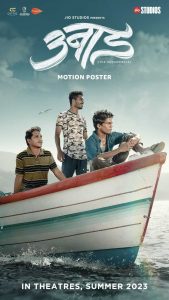 About the film, director Aditya Sarpotdar says, "UNAAD is a youth-oriented film. I hope the film will guide and give right direction to the youth. The film is based on the journey of today's youths of Koli community. The shooting of the film was commenced in Konkan and casting of the film was also done in Konkan before the pandemic. We wanted our star cast to have some background from the Koli community, so we did the audition and selected three boys who were from Koli community."
UNAAD is story of three young fishermen from Harne, a small village in Maharashtra. Shubhya, Bandya and Jameel are three aimless friends who spend the whole day without any work. As all the locals in the village think of them as Unaad which means 'The Scoundrels'. And once all three get into trouble. This is the story of a phase of their lives that changes them forever.