Today, many people around the world are literally driven crazy by Indian cinema culture. Similarly, as the dominance of Marathi is increasing day by day in the regional cine world, it is as if Marathi cinema is marking dancers along with many artists. The steps of Armenian dancer Elena Durgaryan, who is trying to become stable in Hindi cinema, have also turned towards Marathi. In her debut, she has planned to take the breath away of all the fans by performing on 'Ek Number', a rocking dance song. In the upcoming Marathi film 'Ek Number… Super' directed by Milind Kavde, Elena's sizzling hot dance performance with Prathamesh Parab will be seen in this upcoming Marathi movie.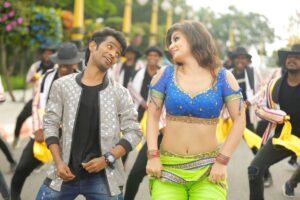 Entitled 'Ek Number… Super', the film is produced by Mahesh Shivaji Dhumal, Jitendra Shivaji Dhumal and Milind Kavde in association with Out of the Box Films under the banner of Dhumal Productions. The film will star Prathamesh Parab in the lead role and will also be seen dancing with Elena Durgaryan. Elena and Prathamesh's dazzling performance will be seen on the song titled 'Majhe Tukade Tukade Whatil Ga…' from the movie 'Ek Number… Super' and choreographed by Rahul Sanjeer. Elena has acted in a Marathi film for the first time on the occasion of this film. Director Milind Kavde has managed to bring Elena in Marathi. The song, which was shot on Elena-Prathamesh, was written by lyricist Jay Atre and sung by Varun Likhate, Mugdha Karhade and Kavita Ram. Varun has also composed this song. Elena is a famous dancer in Russia. She has a lot of fans in India as well as abroad. Elena is very popular on YouTube for her strong looks, attractive dance, eye-catching body language, sweet smile, hot personality and unique dance style. Audience will get to see her Explosive dance performance with Prathamesh in the song from the movie 'Ek Number… Super'. The song 'Baburao Zhala …' from 'Ek Number … Super' has already come to the liking of the audience and now the song 'Majhe Tukade Tukade Whatil Ga…' is ready to grab attention. Milind Kavde said about choosing Elena for the song. He said, I always like to give the audience something new. Elena has been chosen for the song 'Majhe Tukade Tukade Whatil Ga…' with this in mind. On this occasion, an internationally famous popular dancer has entered Marathi cinema. This song beautifully written by Varun. The melody built on it is even more beautiful and makes the young and old tremble. As usual, we have tried to entertain the audience through 'Ek Number… Super', which is sure to like the audience.
Milind Kavde, who is in charge of directing, has also written the story and screenplay of the film and Sanjay Navgire has done the dialogues. Along with Prathamesh, Milind Shinde, Ganesh Yadav, Nisha Parulekar, Abhilasha Patil, Aily Ghiya, Rishikesh Dhamapurkar, Akshata Padgaonkar, Pranali Sanghamitra Dhaware, Sumit Bhokse, Sunil Magare, Harish Thorat, Akash Koli and others have roles. The background music is composed by Abhinay Jagtap and edited by Pranav Patel. Writing of the screenplay has also been assisted by Sanjay Navgire and Sunil Magre. Cinematography done by Hazrat Sheikh (Wali) will be eye-catching.