When you are determined to work and face every obstacle that comes your way, the dreams that you see are bond to come true. This is what happened with Prasad Kadam, a young filmmaker who has made the kind of short films that have garnered the kind of attention and acclaim feature films are used to receiving. But, this journey from being a banker in Dubai to wielding the megaphone as a director was not easy.
"Just like any other boy hailing from a middle class family, I was expected to do a stable 9-5 job. I was working with a reputed bank in Dubai. While my career as a banker was sailing smoothly, I was getting restless as I wanted to do something else. I was passionate about films since childhood and had this strong desire to tell stories. Finally, I managed to gather the courage to quit my job and came to Mumbai to pursue a career in filmmaking," Kadam says.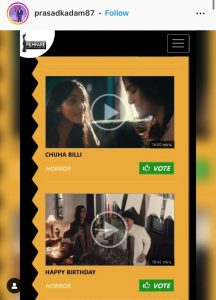 Prasad Kadam went through his share of struggles and hardships while trying to find a foothold in the industry. What kept the filmmaker going was his burning desire to make films. Action speaks louder than words, they say. And, that's what he did. In the last one year, the young filmmaker managed to put together three short films.
'Chuha Billi', starring Adah Sharma and Anupria Goenka, has been one of the best-reviewed short films in the recent times. 'Happy Birthday', his second short film featuring Anupam Kher and Aahana Kumra, has been screened at several prestigious film festivals across the globe. It won the best film award at the New York City International Film Festival. In the same festival, Anupam Kher was given the Best Actor award. Both these short films have been nominated for Filmfare OTT Awards 2022.  His third short film 'Verses Of War' starring Vivek Oberoi and Rohit Roy have received Best Film's Award at Dubai Expo 2020's The Great Indian Film Festival.
Talking about the film, he says, "Verses Of War is a film that talks about the achievement of our brave Indian soldiers. The film will always remain very special to me because of its subject. This is the first time the audience will get to see a short film that is shot on such a massive scale. I feel privileged to have got the opportunity to work with such incredible actors on the film".
After directing three short film, Prasad is now ready to make his debut as a feature film director. The filmmaker has locked the script for his first feature-length film and will be making an announcement about it soon.