Some artists create great atmosphere with their presence, but some do not let us miss their presence, even in their absence. Even if the artist is gone, his work continues to speak. The entertainment world is experiencing something similar right now. Veteran actor Vikram Gokhale is no more within us, and the entire film industry is shook. Although Vikram Gokhale has left this world, he will remain with his fans forever in form of his films. In this sad atmosphere, the news that gives relief to the audience is that the movie 'Sur Lagu De' in which he acted, is ready for release. The first poster of this film has been released recently. The poster of 'Sur Lagu De' is getting a lot of response from the netizens on social media.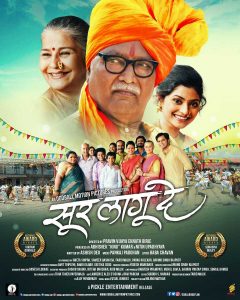 Producers Abhishek 'King' Kumar and Nitin Upadhyay have produced the film 'Sur Lagu De' under the banner of Oddball Motion Pictures. Pravin Vijaya Eknath Birje has directed this movie. Sameer Dixit and Rishikesh Bhirangi of Pickle Entertainment are handling the distribution of the film. The music rhythm is hidden in the title of the movie 'Sur Lagu De'. Accordingly, the plot of this film is also somewhat different. National award winner Vikram Gokhale and Suhasini Mulay are the two veteran actors playing the lead roles in 'Sur Lagu De'. On this occasion, Vikram Gokhale and Suhasini Mulay will be seen working together after a long time. Well-known Marathi TV actress Reena Aggarwal is also playing an important role in this film and apart from this, there are other talented actors, so a versatile act can be seen in this film. Vikram Gokhale has always acted in sensitive, social content based, contemporary and innovative films. The film 'Sur Lagu De' will continue his tradition and present his work even after his demise. The story of this film is based on the people for whom Vikram Gokhale stood forever.
The main feature of this film is an inspiring plot written with social consciousness in mind. Keeping the legacy of enlightenment through entertainment, 'Sur Lagu De' will fully entertain the audience. It is also about relationships. Director Pravin said that the story of the film 'Sur Lagu De' can take place anywhere. It shows how a person struggles in life and works as an inspiration to others. After Vikram Gokhale who played the lead role in it, the whole team is very sad to release the movie 'Sur Lagu De'. His demise has caused an irreparable loss to the entertainment world, but he has given a precious message to his fans in the form of the film 'Sur Lagu De'. Therefore, we are bringing this film to the fans with the spirit of dedication to him. There is no doubt that the fans will greet their beloved artist with great appreciation. The film 'Sur Lagu De' is written by Ashish Deo and the music is composed by Pankaj Padghan. The film will soon hit the screens.