In the current era of singles, some music companies are constantly introducing new songs to the court of music lovers. Entwining lustful stories in meaningful phrases, Samdhur is enticing the lovers. Pickle Music, which is currently in the lead, has brought another new blank song to the audience. Sameer Dixit and Rishikesh Bhirangi's 'Me Jhalo Tuja' song presented by Pickle Music and Filmitical Productions has been launched recently. In a very short period of time, this song has taken the social media by storm and has started to get record likes immediately after the launch.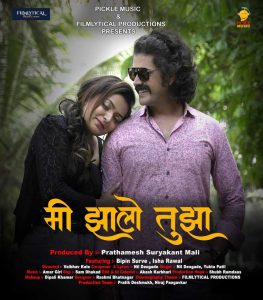 The song 'Me Jhalo Tuja' composed by Prathamesh Suryakant Mali will be remembered by fans for many reasons. Packed with picturesque locations, passionate lead pair, meaningful lyrics, melodious vocals, listenable music composition and quality production values, this song is a must see for music lovers. Neil Devgade has written and composed this song which doubles the joy of fans during the festival days. Neil has also sung this song with Yukta Patil. Music composer Amar Giri has composed the melodious music for this song. Vaibhav Kale has directed this music video. Actor Bipin Surve and actress Esha Rawal are seen in the new Kori Jodi in this song. The bonding of the two is instantly catching the attention of the fans. Sameer Dixit has expressed the feeling that an attempt has been made to present a new color of love to the fans in the form of the song 'Mee Jhalo Tuja'. Director Vaibhav Kale says that this song based on love is relatable to everyone and everyone will like it. Musician Amar Giri said that while composing the music for the song 'Me Jhalo Tuja', he could not resist the temptation to try something different. As a producer, Prathamesh Suryakant Mali has expressed his satisfaction that he was able to present a song with quality production values ​​in the form of 'Me Jhalo Tuja' to the fans.
DOP Sam Dhakad has done the cinematography of the song 'Me Jhalo Tuja' and the choreography is by Esha Rawal. Akash Karbhari has done the compilation and DI work. Deepali Khamar has done the makeup and Rashmi Bhatnagar has designed the costumes. The production head of this music video is Shubh Ramdas, Prateek Deshmukh and Niraj Pangaonkar have played an important role in the production team.