In today's times, it is the single album which is the winner all the way. Since the new singles have succeeded in ensnaring the hearts as well as the minds of the listeners in a big way, new singers, lyricists and music directors too have managed to display their latent talent and mettle. After having worked hard for several years in the field of music in the film industry and earned a big name for itself, Pickle Entertainment has been presenting for the last few days some novel music albums for the music aficionados through their own Pickle Music. All the music albums produced by Pickle Music have been welcomed very warmly by the music lovers in a big way. Egged by the success of their music albums, and the love received from music lovers, the pair of Sameer Dixit and Rishikesh Bhirangi has now come up with yet another brand new music album SAVARALYA VAATA.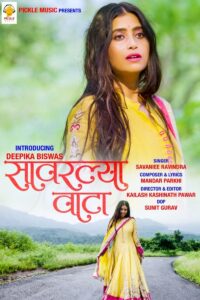 The new song "Savaralya Vaata" brought out by Pickle has been designed to entertain the audiences. The song "Savaralya Vaata" has been released. The song has acquired its own additional glamor touch by the its rendition by the national award winning playback singer Savani Ravindra, who has done proper justification to the words of the song with her unique manner of crooning the song and her own inimitable style as a singer. Lyricist Mandar Parkhi has penned the song, besides composing it too. Kailash Kashinath Pawar, who has edited the song very proficiently has also directed the song. DOP Sunil Gurav has cranked the camera and captured eye catching exotic locales with it. New face Deepika Biswas is making her debut in Marathi films with this music album while Preetam Andagle has tackled the task of 'drone'.
The future of Deepika Biswas is quite bright since she is a brilliant danseuse too. Hailing from Uttarakhand, is by profession a canvass painter and has to her credit a lot of paintings in not only acrylic and oil but also water color and has had exhibitions not only in India but also all over the world. Deepika is very keen on proving her prowess as a painter as well as other plus points that she possesses and that is the reason she has drifted towards acting. She is versatile in not only dancing but is also keen on music. Though the music album "Pyar Ki Raahon Mein" brought out by Pickle Music, Deepika had veered towards acting. Says Deepika, "Besides dancing, acting has also been my very ardent passion. If I 'breathe' through dance, I live through acting. I have a desire to act in the future in not only films, web series but also short films as well as music albums in various kinds of roles".