It has been proved that music is like a soothing balm for any kind of pain. Humanity which has been undergoing the harrowing phase of the dreaded pandemic for the last year and a half is in dire need of a therapy like music. The renowned music company Pickle Music has brought romantic therapy to the people who were suffering from various kinds of problems for the last year and a half. It has unveiled the music now of the entirely different romantic melody "Usasoon Aaley Man", the poster for which was released on the occasion of the Independence Day of our country a few days ago. Sameer Dixit and Rishikesh Bhirangi's Pickle Music in association with Shashikant Pawar have now come up for the sake of the listeners with the romantic duet after having tasted phenomenal success with the unveiling of the poster of the song "Usasoon Aaley Man".
The USP of the song produced by the banner of M.A. Productions are the attractive video and melodious audio. The beautiful and attractive face seen on the poster of the song is visible to the audience now in a bigger way. The look of the village belle is more than enough to instantly lure the hundreds of listeners in a big way. The plus points of the track are the mesmerising beauty of actress Ashwini Bagal in the attire of a village belle and the new face Rohan Bhosle who is featured opposite her in the song. The chemistry of the two of them is clearly visible even in the single. Though it is the first ever single of Ashwini who has been acting in films till date, it is for the first time that Rohan has faced the camera for the video.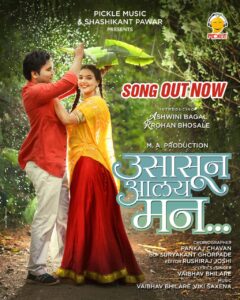 Brilliant lyrics and excellent composition embellished with natural acting will certainly endear the minds of the audiences to the song "Usasoon Aaley Man". The song which has been picturized in a location which has yet not been explored in Satara and hence will lend a fresh experience to all the listeners. Says Ashwini, "This is the first single in my career. I am excited to make my debut with a romantic duet with this album. The pure magic of this duet is that it has lyrics which are endearing to not only the youth but also listeners of all age groups coupled with the brilliant composition of the duet. The song will reach each and every viewer in every nook and corner through the efforts of Pickle Music.
Right from choreography till cinematography, every department has worked extremely hard and excelled in the making of the video. "Usasoon Aaley Man" has been penned and sung by the young lyricist Vaibhav Bhillare and composed by him with Vicky Saxena and choreographed by Pankaj Chauhan. Editing has been handled by Rishiraj Joshi while Suryakant Ghorpade has cranked the camera. Anup Jagdale has specially assisted in the making of the video.