We will get to see a new avtaar of comedian Onkar Bhojane, who made Maharashtra laugh with his jokes. Onkar Bhojane is now all set to hit the big screen. The poster of Onkar starrer 'Sarla Ek Koti' has been released recently. Onkar is seen in a different look in this poster… Having always seen him in comic roles, this new look is now the talk of the town. The audience is curious to know what exactly this film is about and what role Onkar is playing in it.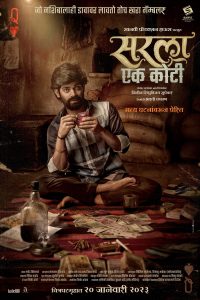 The name 'Sarla Ek Koti' is unique name of the film. In this poster of Onkar, he is seen playing cards with money, in front of him is a cigarette and a bottle of liquor. Onkar, who is skilled in playing cards, is seen giving a daring look. Apart from this, it is written on the poster that 'The one who gambles even luck is a real gambler'. Therefore, all the things like playing cards, liquor bottle, cigarettes, and reckless gestures and since the name of the film is 'Sarla Ek Koti', what is the exact subject of the film, what is its story and when will all this unfold, drawing the attention of the audience. Even after seeing this poster of Onkar, many people have a question that who is 'Sarla' mentioned in the title of the film.
Presented by Sanvi Production House and produced by Aarti Chavan, the story, screenplay and direction of Sarla Ek Koti is by Nitin Sindhuvijay Supekar who is known for multi-award winning film "Atpadi Nights". Vinod Naik is the executive producer. The film will release on January 20 in the New Year.
Onkar Bhojane, who rose to fame with the reality comedy TV show Maharashtrachi Hasya Jatra. The actor is best known for playing various comedy characters in the show.