From being a freelance writer, channel executive to a full-time writer-producer storyteller, Nilanjana Purkayasstha has come a long way. Her first writing assignment was Bharat Ka Veer Putra Maharana Pratap for Contiloe Pictures. She then made her debut as a producer for Chandragupta Maurya on NDTV. Soon after, Nilanjana took a step forward and started her own production house Invictus T Mediaworks. And, she has been backing with a wide variety of good content.
Among the one closest to her heart, Nilanjana Purkayasstha says, "It should be Chandragupta Maurya. Not just because it was my first, but also because of the impact, it had on viewers. This show had a major contribution in my professional life.
Nilanjana is now busy with Chikoo Ki Mummy Durr Kei. "It is a remake of the Bengali serial, Ma. After the successful run of Kullfi Kumarr Bajewala, Star Plus wanted me to associate with them to remake Ma. That's how it happened," she says.
The title of the show is unique and has a story behind it. "Chikoo, the character, was named after where she was found… in the garbage of a Chikoo-wala. The story is of her and her mother, their search for each other. The show title is a spin on 'Chanda mama door ke'," she shares.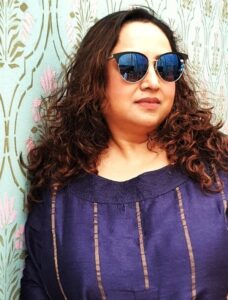 Nilanjana reveals that adding the element of dance to the show motivated them to cast actors accordingly. "Paridhi [Sharma] is someone I have always loved as an actress. She is a very graceful dancer and seemed perfect for the role. For the kids, we wanted dancers who are good actors. Vaishnavi Prajapati and the other children were selected on the basis of that. Monika Khanna and I had worked together earlier. She is also a consummate actress and dancer. I was glad I had a role that would do justice to her talent. Himanshu Malhotra and I almost worked together on another project. That did not work out, but I remembered him for Chikoo when looking for Milind. Deepali Pansare and I have worked together earlier, and I respect her as an actress. I wanted to present her in a different way and I think we have done that well," she says.
Talking about her future plans, Nilanjana adds, "The same as it always has been – to tell stories that I believe in…stories that leave an impact. I think of myself as a platform-agnostic storyteller. We have a number of TV and OTT projects lined up which will be available December onwards. I just want to tell inspiring stories irrespective of platform, and even language. I am driven by the joy of making challenging shows that are not just daily soaps. I will go wherever I find that joy."