Slowly and steadily, the whole world is gradually coming back to normalcy and also the film industry is agog with excitement and all set to come up with new film after film for exhibition. The audience is also thrilled that after the long inordinate wait for over seven months, theatres all over Maharashtra are opening up to screen films for Diwali. Marathi film industry as well as Marathi film lovers are also happy that all the fans now can see their favorite actors in new avatars in new films. Right now Nikhil Chavan is in love with 'Darling'.
Nikhil is all set to be seen in a new avatar in 7 Horse Entertainment Pvt. Ltd., V. Patke Films and Kathakar Motion Pictures new film 'Darling'. Produced by Amit Dhupe, Ajay Thakur, V.J. Shalakha and Nikhil Khajindar, the film has been directed by Sameer Asha Patil. Having seen all his earlier films, we are confident that there is absolutely no doubt at all that Sameer Asha Patil will come up with something which is extremely novel in 'Darling'.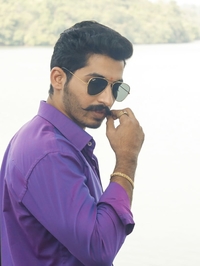 A versatile all round actor like Nikhil , we are sure, will be able to make the hearts of all his female fans flutter with an important film like 'Darling' in his kitty. Till date, Nikhil has done proper justice to turn each and every project with which he has been involved in into gold and in fact that is the main reason why Nikhil is popular in each and every household today. There is absolutely no doubt at all that Nikhil, will also be immensely benefited by 'Darling' on that account after the release of the film.
In the film 'Darling', Ritika Shrotri is the darling of Nikhil. At least that is what the prevalent notion is, at least till the film is released, in the minds of the spectators. Besides, the unbridled enthusiasm of all the fans is increasing since Prathamesh Parab is also acting in a pivotal lead role in the film. It is expected that the presence of three main stars of the Marathi film industry will definitely add to the overall excitement in the film.Besides the fact that the leading star pair of Prathamesh Parab and Ritika Shrotri will be seen in the film Darling, excitement is also mounting as to what kind of a role is Nikhil exactly playing in the film 'Darling' which is scheduled to release all over Maharashtra on January 7, 2021.