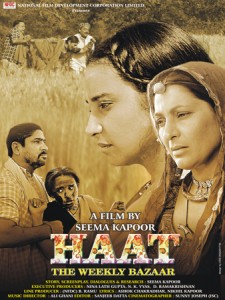 'HAAT : THE WEEKLY  BAZAAR'  HAS  WON  THE  SPECIAL  JURY'S   AWARD  AT  THE  THIRD  EYE   ASIAN  FILM  FESTIVAL 2009, MUMBAI.  IT  WAS  CHOSEN  FOR  THE  INDIAN   PANORAMA THE INDIAN INTERNATIONAL  FILM  FESTIVAL 2009, HELD AT GOA.  THE FILM  WAS  APPRECIATED  AT  THE CAIRO  INTERNATIONAL  FILM FESTIVAL  2009  AND  GOT  A LOT  OF  APPRECIATION  AT  THE   FILM  FESTIVAL  2009,  AT  LONDON.
SYNOPSIS
A story based on a custom called 'Natha Pratha", states that for any reason if a woman wants to leave her husband, her father or any other person who supports her has to pay compensation to her husband.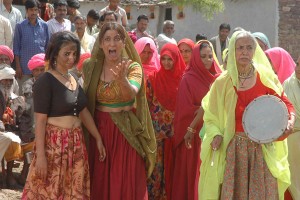 The amount of compensation is decided by the people who hold judicial post ('Panchayat'). If the said amountcannot be paid for whatever reasons the said woman is punished by villagers for leaving her husband.  And the punishment can be as degrading as stripping and parading her naked in front of the whole village. But on the contrary if husband wants to leave a woman, he need not give any reason or explanation for doing so. He can enjoy the free will for the same.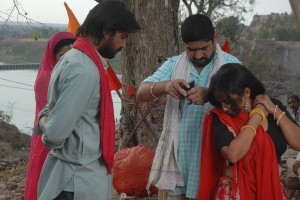 This inspirationof the film is based on a story of a woman who was given a verdict of similar punishment. In this story, the said woman "Sanja" meets a spirit of "Ambalika" who belongs to the 18th Century (Buddha period) . 'Ambalika' had undergone similar situation during her existence. Amba's spirit will only receive salvation once she sees some woman standing up to fight against this custom of looking down upon a woman. A woman should be able to have some breathing space in this male-dominated society.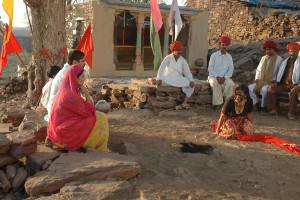 In this era, where we talk of equal rights for men and women, women are still looked down upon, as a mere object of desire, lust and bearing children in spite of   being the very source of mankind's existence.
This woman who is tortured by her husband and the caste, instead of being bogged down by the pressure of punishment throws away her inhibitions and stands up against this custom, she maintains her dignity and courage as a woman and gives new definition to womanhood.
Story, Screenplay, Dialogues and Research : Seema Kapoor
From director's desk……….
In life, sometimes a woman is compiled to think that being a woman is most saddest and ridiculous joke of a nature. I was going through a very depressing passage of my life. I was bogged down by the cosmopolitan pressure of leading a life a to escape from this very pressure I shifted my base to a very small town  of Rajasthan for all those days,…….months…….& years of my life, where I found a string of new life waiting for me to unfold it.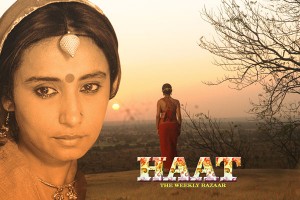 During that phase I met a woman worker, who was married and her husband use to humiliate abuse and beat her, as she was unable to bear children. Her husband had two wives, one Sharda and the other one. Sharda had taken shelter with another man who was her lover to escape from all the humiliation she had had to undergo due to her husband. Sharda, when she wanted to break-free from her husband, her husband her relatives and friends and the people who had judicial rights to give justice, gave her a punishment of giving a compensation of a big amount, which was out of reach for a poor woman or else she will be stripped and paraded naked in front of village. She was not having the specified amount to save herself from the said punishment. I helped her out…. & saved her.
I began thinking….women exploitation is not new to our era, we find glimpses of it since 18th century or may be even before that ….I remembered about the period of Buddha…..similar story…..oh my God! All things have undergone a phenomenal change but…..the exploitation of  women continues…
A thought crossed my mind…. I saved one Sharda, but will I be able to reach all the Shardas who are facing similar trauma. This film is devoted to all Shardas who are struggling to fight of their very existence……..