The coming-of-age sibling drama 'Kacchey Limbu' featuring Rajat Barmecha and Radhika Madan is all set for its World Premiere at the prestigious 47th Toronto International Film Festival (TIFF) in September this year.
Additional Dialogues Written by Neeraj Pandey and directed by Shubham Yogi, 'Kacchey Limbu' celebrates the spirit of sibling love and the first rushes makes it a heartwarming drama.
Interestingly, Neeraj worked as a dialogue writer for 'Tryst With Destiny' that went to Tribeca Film Festival and won award for Best Screenplay. Post that, Neeraj's next 'Kacchey Limbu' will also be screened at the coveted TIFF this year.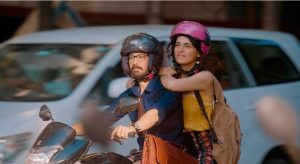 Neeraj informs, "I met Shubham (director 'Kacchey Limbu') for a different project but we jelled really well as creative people and our understanding matched with each other. And he thought that I can add some value to what he was making that time titled 'Kacchey Limbu'."
"There was a specific requirement in his film where he thought he can use my 'writing' voice. I told him let's see what I can bring to the table. Thankfully, he was happy with what I brought to the table and later we improvised it. Initially, it was a short part but as we started jamming on it and improvised it, that part became longer and it is something which has become very important part of the film. Once people watch the film, they will get to know about it," adds Neeraj.
Director Shubham Yogi adds, "Neeraj lent his unique voice to the film and it uplifted the film. His writing has heart, humour, and honesty. Everything the film was trying to deliver on. It was a match made in heaven!"
Neeraj Pandey, a screenwriter and a lyricist, is the name behind the songs of films like "Ramprasad Ki Tehrvi", "Kaamyaab", "Moothon" and the dialogues of critically acclaimed anthology "Tryst With Destiny". He is also a co-writer of the popular web-series "Your Honor Season-2". Neeraj has also produced a film titled "Aani Maani" which won several awards at various film festivals and is now playing on MUBI.
Realising the gap between the mentors and aspiring screenwriters, Neeraj has actively started doing interactive workshops that will enable them to learn and evolve from storytellers to screenwriters by sharing his own experiences.