With the pandemic outbreak, we have been hooked to our mobile and laptop screens, binge-watching series and films. All the big banner films are going for digital release. We can find our favourite movie at our fingertips. Our love for the 'blast from the past' movies has not decreased either. Some films from the past are worth reliving. Nandita Roy and Shiboprosad Mukherjee's Muktodhara is one such film.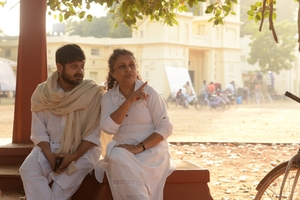 The director duo is known for their successful movies and for telling stories in the most inspiring way possible. One of their early films, "Mukhtodhara" had hit the big screen on 3rd August 2012. The film had Rituparna Sengupta and Gotro's leading man, Nigel Akkara, in the lead. Shiboprosad Mukherjee also played the part of a jail inmate. It is the first film in the history of Indian cinema to be made on culture therapy. Nigel Akkara, who debuted in Muktodhara, is an ex-convict and went through culture therapy. He played the lead role of a convict going through cultural therapy quite impeccably. Culture therapy talks about the tiny streak of hope, positivity amidst the negative situations that the prisoners face. The therapy, which brought a complete metamorphosis in the convicts and enabled them to alter their lives altogether, was the most crucial part of the film. Culture therapy was initially started by then IPS B.D.Sharma in West Bengal. Dancer Alokananda Roy assisted him. They successfully instilled change in many convicts. Later the court released the convicts on the grounds of goodwill and conduct.
The film had created history and was a big hit during its time. Nandita-Shiboprosad's Mukhtodhara set a new benchmark for films and the film received an overwhelming response from the audience. The film completes eight glorified years and still has the same impact on us every time we see it.