Planet Marathi OTT, a Vistas Capital Company has given the audience many excellent films on various subjects. Now one such quality web movie Planet Marathi is all set to release. The movie 'Sahela Re' directed by Mrinal Kulkarni will be released on Planet Marathi OTT on October 1. This web movie stars Mrinal Kulkarni, Subodh Bhave and Sumit Raghavan in lead roles. Recently, the poster of 'Sahela Re' has appeared on social media and looks to be a story commenting on a relationship. A sensitive relationship beyond friendship will be seen in this web movie with the tagline 'Some relationships have no name'.
Says Akshay Bardapurkar, founder and head of Planet Marathi OTT, "It is a story of a mature relationship and various aspects of the relationship will be unfolded separately. Unknowingly, you will reinvent yourself. Basically, it is a sensitive and family story and it will definitely touch the audience. There are many aspects like actors, plot, direction and soon the audience will be able to watch this movie on Planet Marathi OTT.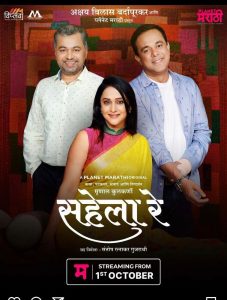 The teaser of Mrinal Kulkarni directed movie 'Sahela Re' of 'Planet Marathi' was launched at the 'Expo 2020 Dubai' event held in Dubai. A special screening of the film was held at the Goa International Film Festival. Recently, a special screening of 'Sahela Re' was organized in the 5th India International Film Festival of Boston. The audience will definitely love the film which has appeared in so many reputed film festivals. Presented by Akshay Bardapurkar and 'Planet Marathi', 'Sahela Re' has story, screenplay and dialogues by Mrinal Kulkarni.
Mrinal Kulkarni is a senior film, TV actress and director. She debuted as a Director for the Marathi film, Prem Mhanje… Prem Mhanje…. Prem Asta. The story of the film has been written by Mrunal Kulkarni. After that, she directed Marathi historical drama Rama Madhav. Mrinal Kulkarni has acted in Marathi as well as Bollywood films.