Since times immemorial, the cinema viewers have always liked to see films which are based on friendship a lot and quite a few films have been made till today on friendship which has found immense favor with the audience. And each of the films made on friendship has made an attempt to deal with something different as far as the nuance of friendship or depict an altogether different idea of friendship till date with aplomb. Similarly, the producers of the film "Yaari Dosti 2" which sets out to tackle a facet of friendship which has not yet been unfurled on the big screen as far as India is concerned till date are confident that the film will find favor with all spectators. "Yaari Dosti" has received on YouTube as many as 8.2 million views and 52,000 likes.
After the phenomenal success of this, under the banner of Passionwoald Entertainments and Buddha Telefilms Pvt. Ltd., with Audiolab Media Corporation, as the co-producers, the producers have decided to announce the launching of the sequel to the film called "Yaar Dosti 2". With the official unveiling of the motion poster of the sequel, the producers have officially confirmed the launching of the film "Yaari Dosti 2". Shantanu Anant Tambe, who had written and directed the earlier version "Yaari Dosti" will also write and direct the sequel of "Yaari Dosti" titled "Yaari Dosti 2". Shantanu Tambe is confident that the sequel also will garner a lot of love as well as appreciation looking at the immense number of views 8.2 million as well as likes (52,000) in YouTube.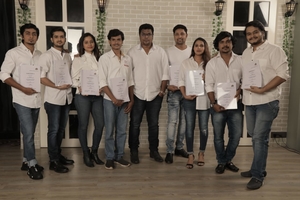 As the title by itself denotes, the film also set out to revolve around the intricacies of the intriguing world of undying friendship and undiluted loyalty towards one another. Though many filmmakers till date have already tried to depict various aspects of friendship through their films, "Yaari Dosti 2" is expected to astonish the audiences by setting out to present yet another hitherto unexplored facet of friendship which will stir the consciousness of the audiences on the whole. The film which is based on friendship will be loved by the viewers who belong to different age groups, whether young or old and will make them fondly remember their old friends with gratitude and love and also set out to unite, especially those friends who have been separated due to strange circumstances beyond their control those who had separated due to them seeking employment elsewhere. The lilting songs in the film will be immensely liked by the audiences.
The film stars the National Award winning Actor Hansraj Jagtap, Aakash Waghmode, Sumeet Bhoske, Aashish Gade, Sandeep Gaikwad, Shilpa Thackeray and Sanket Hegna. While Ravichandran Thevar will handle the cinematography of the film, Sameer Shaikh will handle the editing of the film.