Monalisa Bagal and Abhijit Amkar will soon be seen in the music video "Man Unad Unad …". The audience will enjoy very smooth poetry, great music and eye-catching cinematography through this music video.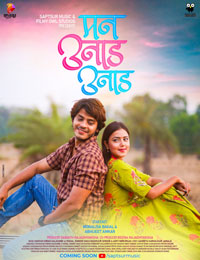 This music video has been produced by Sainath Rajadhyaksh of Saptasur Music. Bina Rajadhyaksha is a co-creator. Saptasur Music and Film Owl Studios are the presenters of the music video. The song is composed by Kiran Kalkumbe and Vishal Shinde, sung by Madhur Shinde and Aditi Nerurkar. Savita Karanjkar Jamle has written the lyrics. Kritik Mazire is the choreographer, while Aniket is the cinematographer.
Mona Lisa Bagal has done many films like "Jhala Bobhata", "Bhirkit", "Bebhan", while Abhijit Amkar has made his mark in films like "Ek Sangaychay" and "Takatak".