Maharani Chhatrapati Tarabai is the great warrior who showed that the women of Swarajya are no less than male warriors in ending the mighty Mughal dictator of Delhi like Aurangzeb in the soil of Maharashtra forever and taking the glorious struggle of the Marathas to the heights in Indian history. Based on the warrior queen's life the film 'Moghul Mardini Chhatrapati Tararani' goes on floors.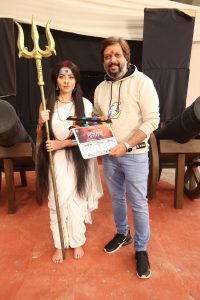 The shooting of this film has started in Mumbai and a grand set has been erected in Filmcity for this film. The film produced by Akshay Bardapurkar, founder of Planet Marathi and 'Mantra Vision' will hit the screens 2023 Diwali. Planet Marathi has always been a leader in delivering quality films on various subjects to the audience around the world by adding modern technology to a good plot.
This film is adoption of the book 'Moghul Mardini Chhatrapati Tararani' by senior history researcher Dr. Jaisingrao Pawar, the story, screenplay and dialogues of the movie are written by Dr. Sudhir Kondiram Nikam and directed by Rahul Janardan Jadhav.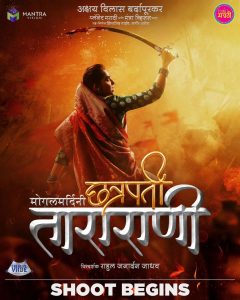 Popular Marathi actress Sonali Kulkarni is portraying the character of Chhatrapati Tararani, who restored the dominance of the Marathi Empire in Aurangzeb's mind. The music of the film has been given by Avadhoot Gupte.
Director of the film Rahul Janardan Jadhav said, "Everybody needs to know the story of Chhatrapati Tara Rani and that's why we are bringing our glorious history in front of the audience through this film. I am sure the audience will love this unique film."
About the movie Akshay Bardapurkar, founder and head of Planet Marathi said, "From the time the film was announced, right from the technical team to the actors, everyone has dedicated themselves to this film. After so many days of research, workshops, pre-work, the film is finally ready for shooting. Before coming to the sets, the entire team has studied everything carefully in their respective departments to ensure that the film can be made the best it can be. So there is no doubt that the entire team will do justice to the subject and the film. I am happy that a talented actress like Sonali will play the lead role. It is the aim of our entire team to bring to the audience the unknown journey of Chhatrapati Tararani, who has an unusual blend of courage and bravery."