Move over cluttered saas-bahu dramas as Star Bharat, a popular and trusted Indian Hindi GEC, is all set to premiere a quirky show 'Meri Saas Bhoot Hai.' Headlined by versatile actress Sushmita Mukherjee playing the character of a  unique 'Saas' along with Kajal Chauhan and Vibhav Roy in pivotal roles, Meri Saas Bhoot Hai is a one-of-its-kind dramedy that reflects on a never seen before saas and a typical bahu relationship. Produced by Pintoo and Rupali Guhaa's Film Farm Production, the show will premiere on 23 January 2023, every Monday to Saturday at 7.30 PM only on Star Bharat.
Set against the backdrop of Banaras, Meri Saas Bhoot Hai follows the unique relationship of an 'Anokhi' saas who is very different from any other saas from this world ever seen on Indian television (Mukherjee) and her typical bahu (Chauhan). The saas (mother-in-law) in the show is a ghost who goes to lengths to trouble her bahu (daughter-in-law) and fulfill her unfilled wishes. The quirky banter between this unique saas and her human bahu distinguishes the show from the age-old saas-bahu sagas. Filled with drama, emotions, comical twists, and a lot of comedy punches, Meri Saas Bhoot Hai will take viewers on a fun-loving roller-coaster ride.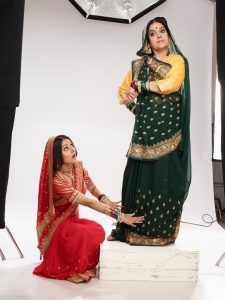 Sushmita Mukherjee, who plays the role of a Bhootiya Saas, Rekha, is super excited to entertain viewers in her never-before-seen avatar shares her thoughts on the show. She say, "It's only a first-of-a-kind for Star Bharat but, also for me, as I have never played such a character in my entire career.  When the story was narrated to me, I was left speechless with astonishment and knew that this is something I certainly want to be a part of. The concept, storyline, and characterizations are not only peculiar but crafted beautifully.   Rekha, as a character, will leave you with mixed emotions at intervals. While sometimes she will make you laugh, other times she will make you feel blessed to not have a mom-in-law like her (laughs). I am super excited to see viewers' reactions to the show and hope they enjoy it as much as we enjoy shooting it."
Sharing her excitement actress Kajal Chauhan, who plays the innocent bahu – Gaura, says, "I'm grateful to Star Bharat for giving me the opportunity to be a part of such a unique concept like 'Meri Saas Bhoot Hai.' It's a story that no one would've imagined but yet, it is quite relatable and engaging. Working with a skilled cast of actors like Sushmita ji and Vibhav has been delightful, and I've already learnt so much from them.  We've put in our hearts and souls and I hope Meri Saas Bhoot Hai strikes a chord with the viewers."
The show also features actors Vicky Ahuja, Vishal Chaudary, and Ayush Bhardwaj in pivotal roles.
Immerse yourself in a journey of comedy and drama with 'Meri Saas Bhoot Hai' exclusively on Star Bharat from 23 January 2023 every Monday to Saturday at 7.30 PM.