Food, clothing and shelter are the basic needs of man but those needs are if man is alive… if man is not alive? What will he need…? A thought provoking movie is upcoming film GAIREE. The chemistry of actor Mayuresh Pem and actress Namrata Gaikwad will be seen in the film GAIREE. The film with a strong star cast will release on 16 December 2022. Recently the poster of this film has been unveiled on social media.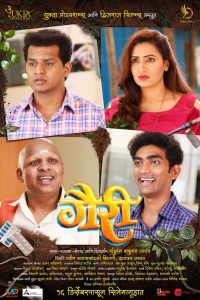 Produced by Praveen Balaprasadji Biyani and Dattatray Jadhav of Yukta Productions and Dwijaraj Films, GAIREE is written and directed by Pandurang Baburao Jadhav. The film stars Mayuresh Pem, Namrata Gaikwad, Pranav Ravrane, Anand Ingle, Ketan Pawar, Sameer Khandekar, Sunil Dev, Kritika Gaikwad and Devika Daftardar.
Lyrics are penned by Guru Thakur and Vishnu Thore, Music direction by Amitraj, choreography by Phulwa Khamkar. Vaishali Samant, Amitraj, Madhura Kumbar, Hrishikesh Shelar have sung the songs. While background music and music is by Mayuresh Kelkar, Cinematography by Vinod Patil.
The film "GAIREE deals with the problems faced by a young man who wants to become a doctor to save his society. Now curiosity has arisen about this film with a good story and strong star cast.
Mayuresh Pem is known for FU: Friendship Unlimited (2017), Zhalla Bobhata (2017) and Dil Dimag Aur Batti (2022). He was also appeared in 2017 film Sachin: A Billion Dreams which is a biopic of Master Blaster Sachin Tendulkar. The film was directed by Hollywood director James Erskine. Romantic-comedy drama FU: Friendship Unlimited was directed by Mahesh Manjrekar who has also produced the film. Zhalla Bobhata was written and directed by Anup Ashok Jagdale and screenplay-dialogues by Arvind Jagtap. Dil Dimag Aur Batti was directed by Hrishikesh  Gupte.
Namra Gaikwad is known for Bedhadak (2018) and Swarajya (2011). She also worked in 2017 southern film Ayal Jeevichirippundu directed by Vyasan Edavanakkad who has also written the story.