Stepping into the Marathi entertainment world with a bang, Jio Studios is all set to create a distinct identity with one quality film after another. Jio Studios is gearing up for 'hat ke' love story of Nipun Dharmadhikari and Vaidehi Parasurami. The upcoming film EK DON TEEN CHAAR by Jio Studios has been announced today and this film will hit the screens in the New Year. A fresh pair of actor Nipun Dharmadhikari and actress Vaidehi Parasurami will be playing the lead roles in the film. And importantly, the film is directed by Varun Narvekar, after his previous super hit film 'Muramba'.
The couple Nipun and Vaidehi decides to get married at the very young age of 23 years, and then along with this couple, starts the problems for their near and dear one. It will be interesting to see what exactly will happen in this journey in the actual film.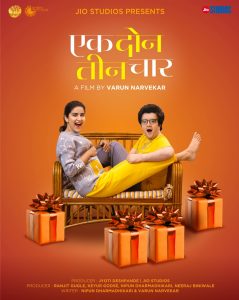 Talking about EK DON TEEN CHAAR, the film's director Varun Narvekar says, "The film that today's youth will like, the story of the film will be close to them; I wanted to do such a film. Because marriage is something that is complicated no matter what age you decide to do it, and in this film compared to today's couples, the lead pair decides to get married very early. I am sure everyone will relate to this roller-coaster love story."
Sunny Leone to sizzle in a new mermaid avatar in Jhootha Kahin Ka!
Nipun Avinash Dharmadhikari, A writer, actor and director has given films like Harishchandrachi Factory, Baapjanma, Dhappa and Mee Vasantrao. Actress Vaidehi Parasurami was seen in Ved Lavi Jeeva, Zombivali, Lochya Zaala Re and many more.
Presented by Jio Studios, under Bahawa Entertainment and 16 By 64 Productions, Producers Jyoti Deshpande along with Ranjit Gugle, Keyur Godse, Nipun Dharmadhikari, Neeraj Biniwale, story written by Nipun Dharmadhikari and Varun Narvekar, the film EK DON TEEN CHAAR is coming soon.