Telugu star Manoj Manchu is back after a 6-year hiatus with WHAT THE FISH which is all set to hit the floors. The film is originally in Telugu language but will also be dubbed and released Pan India in Hindi, English and multiple other regional languages. The Hindi title for the film is WHAT THE FISH…When The Crazy Becomes Crazier! The actor, director and the production have dropped the announcement poster on their social media wowing all the fans.
Manchu returns with this heart-pumping, action-packed, and side-splittingly hilarious feature film with more energy than ever. Varun Korukonda, a debutant writer -director will be helming the project and it is being produced by 6ix Cinemas.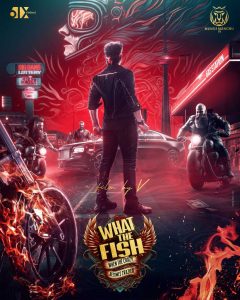 The announcement poster gives out a quirky yet world-class vibe. Standing in the middle of the road, Manoj is gearing up for a big fight, as baddies approach him. In this very intriguing poster audiences also get to see the caricature of a girl with a goggle mask. He looks fit in a back pose and the grapevine has it that the actor has gone through a makeover for this film.
Speaking about the project, actor Manoj Manchu said, "I'm really excited about WHAT THE FISH. It's a very interesting film which seamlessly cuts across genres yet is a very wholesome family entertainer. The script really stayed with me even after Varun's narration. We did multiple rounds of reading sessions and it kept getting more interesting. We are in the last phase of pre-production and absolutely geared up to roll. A special bow down to all my fans who have relentlessly supported me, I will be starting this project with a lot of gratitude in my heart ".
"We're honoured to have Manoj Manchu's positive energy on set and can't wait for you to see what he brings to the party. We're thrilled to announce 'WHAT THE FISH' – our sincere attempt to bring you a visually aesthetic rib-tickling heart throbbing blend of dark comedy and high-octane thrilling family entertainer. The project comes from a sincere attempt to show culturally routed Indian global content internationally," said director Varun Korukonda.
This movie will be shot in Telugu and released in Hindi, English and multiple regional languages. The shooting of this cinematic adventure will take place in the beautiful city of Toronto and various locations across Canada for 75 days. 'Slated to release Pan- India and globally, WHAT THE FISH..The Crazy Gets Crazier' will be mounted on a large scale with high production values and top-notch technical standards.