Actor Manoj Chetan Singh Kaira made his way into the OTT platform and into his audience's hearts with her alluring acting skills, dashing looks, charismatic personality and stylish outfits. The theatre artist debuted in leading over-the-top platform ALT Balaji's web series 'Crimes and Confessions'. The actor is highly active on his social media handles and has a huge fan following. Manoj Chetan Singh Kaira has worked with Vidyut Jamwal in Bollywood's most action-packed film Commando 3.
Manoj Chetan Singh Kaira is a fitness lover, and remembering how he shares a similar interest with Vidyut Jamwal the actor said, "Vidyut Jamwal is a great human being, we used to go to the same gym for workouts. The dedication that he has for fitness is undoubtedly awesome and I am also a fitness freak. I know how much hard work it takes to maintain your muscles."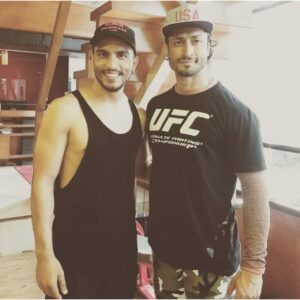 Actor Manoj Chetan Singh Kaira fondly reminisced his first day on the set of 'Commando 3' with actor Vidyut Jamwal and said, "I still remember my first day on the set of 'Commando 3', Vidyut Jamwal was doing the climax scene of the film and he saw me standing close to the Direction team. He recognised me from 50 metres distance and greeted me with a big smile saying "Hi". The whole crew looked at me and wondered, "who is this guy to whom Vidyut Sir is waving" and then after his shot, he came to meet me and hugged me. He was delighted to know that I was a part of the film with him. He does each scene with so much hard work and passion and I have tried to pick up that trait from him as well".
Shedding light on what lessons Manoj Chetan Singh Kaira learned because of Vidyut Jamwal the actor said, "I used to do a lot of weight training initially and now I shifted to gymnastics and bodyweight training. I am learning Kalaripayattu that's because of him. One must respect everyone on set and greet everyone with a smile, that is something I imbibed from Vidyut Sir. I became a nature and fitness lover as well. Living a disciplined life is very important for an actor so, I do a lot of mountaineering and trekking just like Vidyut Sir. I look up to him in many ways, although we don't meet very often but, Vidyut Jamwal is like a mentor to me and I keep a check on Instagram handle and continue to learn from him like how Eklavya had learned from Dronacharya."
Manoj Chetan Singh Kaira to make an OTT debut with ALT Balaji's "Crimes and Confessions"
On the work front Manoj Singh will be soon seen in the Applause Entertainment web series which is directed by National award-winner director E Niwas. The title will be revealed soon. The actor has also trained under theatre personalities like Arvind Gaur and Tarun Kumar Shukla, who also have done many workshops with actor Neeraj Kabi. There are many more projects under the pipeline for this actor which will be announced soon.