ZEE5 is known for winning hearts of the audiences by always delivering fresh and new content. The reason for the app to be one of the most loved ones is the variety of content it brings- from thriller to romance, to films, crime and much more. The latest one being their upcoming thriller 'The Casino', is already receiving appreciation from all across ahead of its release.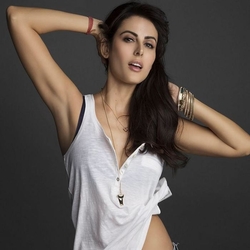 Mandana Karimi who is essaying the character of Rehana and has her eyes on the throne, shares her experiences and the obstacles she faced in one of the most loved scenes of the trailer, the pole dance.
Sharing her experience Mandana says, "I practised for a couple of days for the pole dance scene. Of course, I didn't manage to do it like a professional pole dancer, but yes, I tried my best."
Adding further on the injuries she endured, the actress added, "During the practice, my whole body was bruised and while we were shooting they had to cover all those bruises with makeup because I had to perform it anyhow that day and I think it went pretty smooth and nice."
Mandana definitely stole hearts with the scene and the audiences are looking forward to seeing who is going to be ruling on the throne. The series has caught everyone's attention and this high-society thriller is all set to grip the attention of the audiences.
The storyline of 'The Casino' revolves around a rich yet humble boy Vicky who is the heir to his father's multi-billion-dollar casino. It is set to unfold a world of mystery and conspiracy in a high-class society.
Directed by Hardik Gajjar and Produced by Hardik Gajjar Films. The series will exclusively release on ZEE5 on 12th June 2020. So make sure to mark your calendars!