In Marathi cinema, movies are always based on different subjects. More than this, a different aspect of Marathi cinema has always been presented to the world, that Marathi movies are produced with the passion of innovation, changing with the times. In the wave of comedy films comes a film that grabs the attention of everyone along with the fans. The number of horror films in Marathi is very less as compared to comedy, content-based and entertainment films. The upcoming Marathi horror film titled 'Daak' by Mahesh Nene, will fill out this gap. The shooting of the movie 'Daak' was completed recently.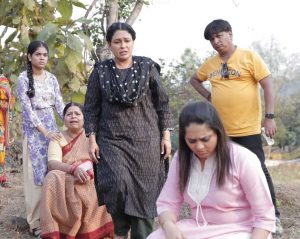 Ratish Tawde and Mahesh Nene have accepted the responsibility of producing the film 'Daak' under the banner of Mahesh Nene Productions. The film was shot in Baijnath village near picturesque Kolad in Raigad district. Mahesh Nene has accepted the challenge of presenting a horror film to Marathi audiences through 'Daak' and based on advanced technology and innovative plot, he is going to give the fans an experience of fear. Mahesh Nene has already announced his upcoming film 'Chimaji Appa' and currently the work of this film is also going on at a fast pace. In Hindi, the Ramsay brothers and Ram Goapl Varma's horror movies had thrilled the hearts of the fans. Following the same path, the movie 'Daak' is expected to give the audience a thrilling experience. Although the exact plot of the film is kept under wraps for now, the secret will be revealed soon. This movie is creating curiosity among the audience. At first glance, it seems that this film will give a unique experience to the audience by taking them through a different universe.
Film 'Daak' has received Devang Gandhi's special support. Along with the direction, the story of the film has also been written by Mahesh Nene. Actors Ashwini Kalsekar, Sanjivani Jadhav, Aniket Kelkar etc. have played various characters in this film.