Time and again, Sony Entertainment Television's most loved mythological show Vighnaharta Ganesh has managed to unite the viewers seamlessly and has become their favourite. Renowned Actors of television play pivotal characters in the show such as Advati Kulkarni portrays the role of Lord Ganesha, Malkhan Singh essays the role Lord Shiva and Madirakshi Mundle portrays the role of Parvati Mata. These actors have time and again displayed their effortless acting skills and have been seen playing their parts with great ease. Introducing a new chapter of 'Mira Bai' in the show, the makers have roped in actor Lavina Tandon. In the coming episode, Mira Bai's marriage will be fixed with a man from chittor family.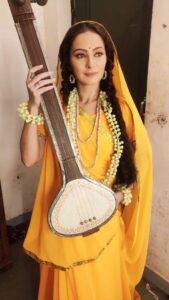 The story revolves around 'Mira Bai', a dedicated devotee of Lord Krishna and worshipped him religiously.  She gets dreams of Lord Krishna and her family gets worried for her. When she gets to know that her marriage is being fixed with someone else, she tries to make her parents understand that she has already gotten married to Lord Krishan, to which none takes it seriously. They advise her to be practical in life. Mirabai was always supported by her grandfather who could die any moment as he is very old.  On the occasion of Janmashtami, Lord Krishan will be seen coming and giving his blessing to Mira Bai.
Talking about Mira Bai's devotion for Lord Krishna, Lavina Tandon says, "It is incredible to play the role of Mira Bai and now there is a new chapter where Mira Bai will be seen putting efforts to convince her parents. It is going to be very interesting for the viewers to witness the role of Mira Bai with new twists and turns. I am also enjoying the shoot and am able to grasp a lot of unknown facts about the story of Lord Krishna and Mira Bai. It is very fascinating for me to essay such a pivotal character of Mira Bai's and exhibit her devotion towards Lord Krishna. I hope the viewers enjoy it as much as I enjoyed shooting it".
In the upcoming week, the viewers will witness if Krishna's devotee 'Mira Bai' will get married to a man from Chittoor?!
Watch Vighnaharta Ganesh, every Monday to Friday at 8:00 PM only on Sony Entertainment Television