Sunny Shah, manager of Late Irfan Khan, is ready to share his wisdom with the entertainment industry by providing newcomers with an opportunity. Shah Entertainment Media has produced a short film in collaboration with Indo-Australian filmmaker Ali Sayed. The short film is titled 'Blame the Ovens.'
When asked how and why he ventured into the production business, producer Sunny Shah said, "The notion of me getting into the production business was laid out by the legendary late Irfan Ji amidst the shooting of 'Paan Singh Tomar.' After his sad demise, it felt fitting to act on it since I had his blessings which is more than I could've ever asked for. He was and still is an inspiration to me. His words of encouragement are the motivation behind making this short film 'Blame the Ovens'. I am awestruck and honored to have known that he believed in me."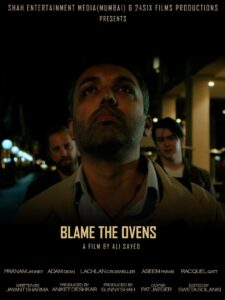 The short film 'Blame the Ovens' stars Pranam Janney, Lachlan Crosweller, Adam Dean, Aseem Parab, and Racquel Gatt. Except for Pranam Janney (the lead), the whole cast consisted of fresh faces. A press conference was held on 24th January where the screening of the short film took place followed by the press meet. The feedback received for the short film after the screening was immaculate. Multiple behind-the-scenes stories were shared by the producer Sunny Shah and Director Ali Sayed.
'Blame The Ovens' is a short film that expands your imagination to various possibilities of the story-line. The shoot was done in Sydney, Australia. The story-line of the short film is very precisely articulated.
The short film is currently screened across national and international festivals and will soon be released on the OTT platforms for audiences to relish.
Sunny Shah is a renowned celebrity manager in Bollywood who has manage the work profile of renowned artist namely late Irfan Khan, Tushar Kapoor, Rajesh Sharma, Milind Gunanji, Aarya Babbar, Dinesh Lal Nirhua and others.