Last year on November 19 release 'Jhimma' was liked very much by audience and this year again SUNNY is coming to entertain people on the same date same Friday. For the first time after the lockdown, after the super hit movie 'Jhimma', Hemant Dhome's movie SUNNY is releasing. After 'Jhimma', the expectations of the audience have been raised even higher. To live up to the expectations of the audience, the movie SUNNY is releasing on November 18 after exactly one year.
Presented by Crazy Few Films, Akshay Vilas Bardapurkar and Planet Marathi, the Chalchitra Commpany production movie SUNNY will hit the theaters on November 18. Lalit Prabhakar is playing the lead role of Sunny and this movie is directed by Hemant Dhome. The film is produced by Akshay Vilas Bardapurkar, Kshiti Jog, Viraj Gavas and Urfi Kazmi. Also Santosh Kher, Tejaswini Pandit are co-producers and the movie is written by Iravati Karnik.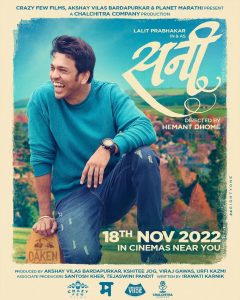 Director Hemant Dhome says about the film, "After the great response of 'Jhimma', a different relationship has been created with the audience and it is as a result of that affection that we have come up with the film SUNNY responsibly. It is a great pleasure to present this feel-good story about our lives to the audience. I'm sure SUNNY will get the same love as Jhimma."
Hemant Dhome is actor, screen-writer and director who is best known for his directorial debut and critically acclaimed political comedy-drama film 'Baghtos Kay Mujra Kar'. He has acted in Choricha Mamla, Hirkani, Bus Stop, Online Binline and more.
Lalit Prabhakar  is best known for his role as Aditya Desai on the popular daily soap Julun Yeti Reshimgathi and his debut film as main actor in the film Chi Va Chi Sau and then was seen in Tuza Tu Maza Mi, Hampi, Anandi Gopal, Smile Please, Medium Spicy and Zombivali.