On social media of many artists #gharapasun_door trend is seen for the past few days. It includes actors like Hemant Dhome, Lalit Prabhakar, Kshitee Jog, Chinmay Mandlekar. While many arguments are being made about what exactly this is, now the secret hidden behind this hashtag has come to the fore.  Zimma fame director Hemant Dhome's next film SUNNY will release on 18 November 2022. Recently, the teaser of this film has appeared on social media and answer of #gharapasun_door in unveiled.
In the teaser, Lalit Prabhakar aka 'Sunny' has went abroad for education and he is constantly feeling that he has left something behind. It is said that only when you go far, you find what is there nearby you. It seems that Sunny is having a similar experience. On November 18, we will get the answer to what exactly thinking is going on in his mind. Presented by Crazy Few Films, Planet Marathi, Creative Viibe Productions presentation SUNNY is production of Chalchitra Company. The film is written by Irawati Karnik and produced by Akshay Vilas Bardapurkar, Kshitee Jog, Viraj Gawas, Urfi Kazmi while Santosh Kher and Tejaswini Pandit are the associate producers.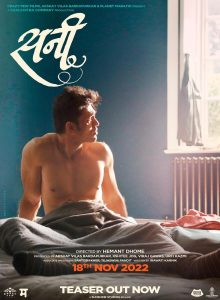 Starring Lalit Prabhakar, about SUNNY, director Hemant Dhome says, "Actually this is my story but it is the story of everyone who has been away from home at one time or another, it often happens, when you move away from home you realize the value of certain things and sometimes you find a new relationship, a new world. Our life takes a new shape and our wholeness grows. An attempt has been made in SUNNY to convey this very lightly. It's a fun film for the whole family to watch together."
Lalit Prabhakar  is best known for his role as Aditya Desai on the popular daily soap Julun Yeti Reshimgathi and his debut film as main actor in the film Chi Va Chi Sau and then was seen in Tuza Tu Maza Mi, Hampi, Anandi Gopal, Smile Please, Medium Spicy and Zombivali.