Are you passionate about a career in film making? Do you often wonder why the film's credits are so long and what do so many individuals do in the entire process of filmmaking? The art of filmmaking is one of the most intricate and strenuous process because it demands a creative and technical amalgamation which translates into a mesmerizing visual experience for the audience.
Every film has a crew team, of course the size of the crew team will depend on the budget, but it is this team that handles different departments and responsibilities, to ensure a seamless movie making process. Their efforts in the success of the film is significant and thus we have a entire section of awards dedicated to accolade their work. Each department or aspect of movie making demands a requisite acumen, thus it is important to any individual dreaming of a career in movies, to understand the nuances of each department.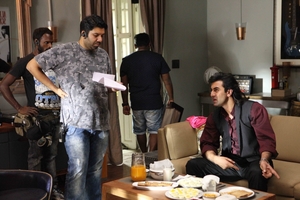 Who better than an insider to mentor us! So ace Bollywood Director Collin D'Cunha will host a master class on Bookaworkshop to demystify everything that goes into making a film, and talk us through specific roles and responsibilities of each person on a film with a special focus on the direction department and offer practical advice on how to shape your film career. This master class will help one understand, how to be an indispensable creative collaborator on a film.
Collin D'Cunha has been a film professional, working in the Hindi film industry since 10 years. He has assisted filmmakers like Raju Hirani (Sanju, PK), Rakeysh Om Prakash Mehra (Bhaag Milkha Bhaag), Reema Kagti (Talaash) and Navdeep Singh (NH10). He is a post – graduate from the Film and Television Institute of India, Pune with a specialisation in Film Editing. His short films have screened at festivals worldwide and won awards at the Mumbai Film Festival (MAMI) and Bollywood & Beyond film festival in Melbourne Australia. He is currently directing his first feature film 'Dostana 2.
The workshop is scheduled for September 05, 4:00 pm – 6:00 pm IST over a Zoom session. The payment ad registration details are here: https://www.bookaworkshop.in/event-details/finding-your-role-on-a-film-set