The most talked about untitled Kashika Kapoor and Anuj Saini movie has been in the news for a while. For the first time, they will share space on the big screens. Well, now Kashika Kapoor has flown to Banaras, Varanasi for the shoot of her debut film and the actress took to her social media to update all her fans on her big debut. Posing along with the clapboard and the entire cast dropping the hint of the title of the film, #AGMP has once again heightened fans' excitement. However, there is a catch because she encouraged followers to guess the title rather than divulge it.
The actress teased the movie's acronyms before the unveiling, which sparked a frenzy on the internet. Everyone is speculating as to what the initials "AGMP," stand for.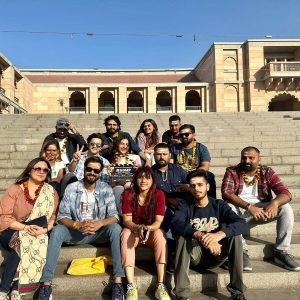 Taking to her official Instagram handle, Kashika shared pictures along with the cast and Anuj Saini as they take blessings before they start the shoot. Kashika as always, looks adorable in Indian dress, where she donned a baby pink kurta with white leggings and matched it with a white duppata keeping her hair left open. We could also see the floral garland in pictures taken after her darshan, along with her tikka and all smiles and proud happiness as she begins the shoot.
Kashika Kapoor : I do everything necessary to get as close to the character's world as possible
However, it does mention that the title will be announced on February 18, i.e., on the birthday of actress Kashika Kapoor. While netizens are having a tough day attempting to predict what the title actually is as the announcement approaches.
The movie will cover a very delicate subject, which is girl education, with a strong message that will be sent to young people, but the story will also have many unexpected twists and turns. The film is going to be helmed by Pradeep Khairwair who is known for films such as 'Sarkar 3', 'Blind Love', and many others,  So, until the time comes, we can speculate that the movie title will be interesting or will have a unique twist.