When the epidemic named Corona entered the world, the whole world was shocked. Due to which lockdown was announced in many countries. But as time passed, this fear started to settle in our minds. We started getting worried about the time to come. The worry of the time that came along with the fear of sickness that started haunting us. Later everyone including the common man has started becoming a victim of depression. This is a kind of mental state that can have harsh consequences. If told, there is such a brainstorm that even the person suffering from it does not know. And this disease is treated with love care and affection.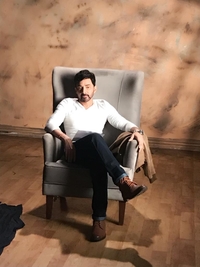 Bollywood actor Karan Aanand also shared his thoughts about this mental state and said, "Right now there are two types of problems going on in the whole world including our India, which is Corona, and that is visible. But the mental problems going on inside us is not visible and know as depression. The amazing thing is that one who is going through depression; he does not even know that he is mentally ill. But yes, if only his close, relatives and friends take notice of this, then they can understand that something is wrong. Because the changes that occur in depression start to appear, it seems to run the farthest. In present times, it is physically in isolation. But Mentally also goes into isolation."
He said, "We have to understand this. Some people delay saying that it is not right to speak in someone's personal case. But friends, this is not the right time to think about it. You can talk to them without any reason, just take a call once a day and talk. Do not leave them alone. Follow the duty of your friendship. I will do the same from here onwards and will call my friends unnecessarily and ask them, 'Are you alright or not, how are you?' Talk to each other because talking is very important."
On the work front, His first Bollywood the movie was 'Gunday', followed by 'Kick', where his action scenes were much appreciated, but he truly received recognition for his spy-act in 'Baby'. Recently, he had a cameo in Madhur Bhandarkar's 'Calendar Girls'.