Sahyadri Film Productions, producer Prashant Shingte's upcoming film KA RE DEVA poster and music launched at the hands of popular singer Aanand Shinde. On the occasion cast and crew were present. The film stars Mayur Lad and Monalisa Bagal in lead along with Nagesh Bhosale, Arun Nalawade and Jaywant Wadkar. The film will release on 11 February 2022.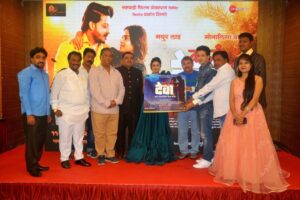 The film KA RE DEVA is written and directed by Ranjit Dashrath Jadhav. The music is composed by Sandeep Bhure, lyrics by Sushant Mane and Tansen Lokare, songs sung by Aanand Shinde, Aadarsh ​​Shinde, Madhur Shinde, Dr. Neha Rajpal and Supriya Sorte. The song "Ghumude Awaz Kanat, Vaju De DJ Danakyat" sung by Aanand Shinde is a foot tapping number from the album.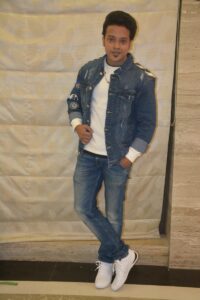 Actor Mayur Lad has worked in TV series like Tujyat Jeev Rangla, Jai Malhar, Vithu Mauli and more. He has also done web-series Mumbai Diaries. Apart from that, Mayur will also be seen in excellent roles in some upcoming films.
Monalisa Bagal who rose to fame with 'Zhalla Bobhata' has worked in Current, Ravrambha, Dry Day, Sobat, Perfume, Gast and Bhirkit. She made her film debut in 2016 with film Prem Sankat directed by Datta Mirkute. She participated as contestant in Chala Hawa Yeu Dya – Ladies Special and acted in TV show Total Hublak.
The Backgound score is by Shreyas Aangane, editing by Yash Surve, cinematography by Ansar Khan,costume by Nasir Khan, art by Vaibhav Rathod, make-uo by Falaknaaz Shaikh and choreography by Chetan Chini.
Producer: Prashant Shingte
Director: Ranjit Dashrath Jadhav
Music Director: Sandeep Bhure
Singers: Aanand Shinde, Aadarsh ​​Shinde, Madhur Shinde, Dr. Neha Rajpal, Supriya Sorte
Executive Producer: Ashwnin Bagal
Production Controller: Hemendra Bhosale
Location Manager: Amol Shingate
Publicity Stills: Prasanna Bapat
Post Production: Eye Focus
Visual Promotions: Sameer Shaikh
Social Media: Visual Junkies
P.R.: Darshan Musale
Publicity Design: Milind Bhatkar
Distributor: Sunshine Studios