Jugaadu Beats in association with Tewatiaa Pictures released its debut single HATHON MAIN HATH HO on 1st January 2023. The video features Rahuul Chuwdhary along with Manisha Jain. The romantic song is shot at beautiful locals in Leh Ladakh and Kashmir.
Taking about the romantic single Rahuul said, "HATHON MAIN HATH HO is very romantic song and Ashish Mishra has beautifully woven the words. Leh-Ladakh & Kashmir is known as 'Jannat' on Earth so obviously it was fantastic experience of shooting romantic song at the beautiful location there. I like to work with creative people and the team of this single is very creative and nice. So it was wonderful experience doing this single."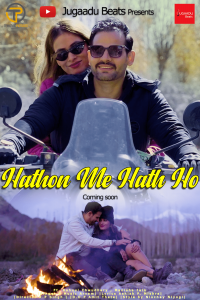 Rahuul was seen in BHUJ: THE PRIDE OF INDIA where he played Virag Patel (Indian Air Force Pilot). The magnum opus directed by Abhishek Dahiya is based on a true incident and is one of the fascinating war stories. The actor was seen in films like Pankh – A Daughters Tale, Dosti Zindabad and Main Khudi Ram Bose hun earlier. Rahuul's short film AAYAT got appreciation from the viewers on MX player.
The music video is directed by R. P. Singh, music composed by Aryam who also sang the song. Ashish P. Mishra has written the lyrics, Amit Thete is DoP, DI by Karandeep Chhabra and Piyush Ochani, mix Master is Aryam, MUA Yeong Wu. The outfits are by Nischay Niyogi.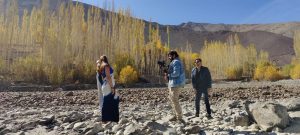 Singer Aryam has sang the song in recently released web series Physics Wallah streaming on Amazon MiniTV. This is debut song of career and HATHON MAIN HATH HO is second song. Lyricist Ashish P. Mishra is doing Podcasting for Saregama. He has also directed a film streaming on Zee5, which got appreciation from the audience.
Jugaadu Beats is also coming up with 2 more songs. Production for the music videos are in progress and audio will be recorded soon post which the shoot for them would begin.