TV actress Jiya Shankar will be seen as host in Sony SAB's Goodnight India along with ace stand-up performer Amit Tandon. Here Jiya Shankar shares about the show and her debut as a host on television
What prompted you to be a part of Goodnight India?
Jiya Shankar : I think I have always been the kind of person who loves challenges. So, when this opportunity came to me, I couldn't have not taken it up as another challenge upon my sleeves. My career has been very challenging, like everything that I didn't even think I could do has happened, and I did pretty well with it. This is a different concept altogether, and I am looking forward to this chapter of my life.
How does it feel to be associated with Sony SAB and Goodnight India?
Sony SAB has always been special to me, and my character Susheela from Kaatelal & Sons is very close to my heart. So, it definitely feels like being back home, and I am extremely excited and thrilled to be a part of this show. With Goodnight India, I am venturing into a new space, and I can't thank the makers for bestowing their trust onto me and allowing me to try something starkly different and expand my reach as an artist.
The concept of the show is very different from what people have usually seen you do. How has this experience been for you? What can the audience look forward to from the show?
Yes, I think the concept of the show is very unique, and people have never watched me do something like this before. For me, it is very motivating as I am trying my hands onto something that will help my fans get to know more of Jiya as a person. With every character I have played, I have added elements of my personality into it. However, with this show, I am getting an opportunity to showcase more about myself as a person.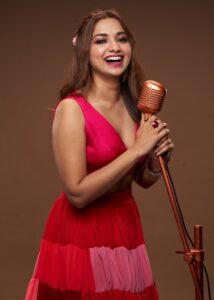 It's been a challenging year for all of us. After all the daily hustle, how do you unwind and ensure a goodnight sleep?
I believe it's been two years since we have been going through such challenging situations, and things have been more difficult lately than usual. Before going to bed, I definitely try to watch something light that would help me with a peaceful goodnight's sleep and take the daily stress out of my head. Now that Goodnight India will come on-air, I guess I would be watching my own show before going to bed for a good night's sleep and would recommend the same to everybody else as well.
You're exploring a new genre with Goodnight India. Did you do any kind of special preparation for this?
I have always been very observant and never really had to do any special preparations for the roles that I have portrayed on television. This time, with Goodnight India, I will be going with the flow and learning something new each day. It's a great learning experience as it will be my first time being a host, and I would have Amit Tandon by my side to help and support me during the show. So, I am really excited for this project, and hopefully, it will turn out well for all of us.
How does it feel to take the role of a host for the first time?
I think it's a great opportunity and I can't put into words my happiness. I am ecstatic to be a part of a show like Goodnight India, and I feel a sort of responsibility upon my shoulders to give my best and put my best foot forward. I would want my well-wishers to remember me as someone who takes upon new challenges and gives her more than 100% to every project. Though I am a little nervous, I am excited as well and looking forward to playing a host on television for the very first time and enjoy this spell-binding journey ahead on the show.
Goodnight India launches on 31st January, Monday to Saturday at 10:30 PM only on Sony SAB