The new production of 'Puneet Balan Studios', the amazing music of Ajay-Atul, the magical cinematography and direction of Mahesh Limaye along with the super cute pair of Amey Wagh and Vaidehi Parashurami, the movie 'Jaggu and Juliet' is coming to audience on 10th February in the new year.
Ever since the first poster of Puneet Balan's film 'Jaggu and Juliet' was unveiled, the audience was speculating as to which pair will be in the film, but the wait is finally over. Amey Wagh and Vaidehi Parashurami is the lead pair in the movie. Also, after hearing the music by Ajay-Atul of the motion poster, the youth and all the music lovers will groove on the floor.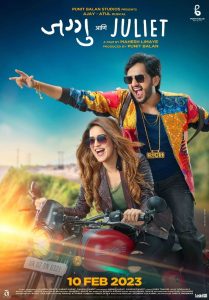 The latest poster shows Amey and Vaidehi are sitting on a Java bike, Vaidehi is fearlessly driving and Amey is standing behind. A colorful jacket on the body, a gold chain around the neck with 'Rich' written on it. While Vaidehi is making everyone cringe with her leather jacket, goggles and cute smile. The fans of this couple are now ready to see what the two are up to once again. Seeing the colorful motion poster of the film, Amey Wagh's unusual look, the audience is eager to know which other actors will be in the film.
After the success of 'Mulshi Pattern', which was earlier produced by 'Puneet Balan Studios', a new romantic love story is coming in the form of 'Jaggu and Juliet'. Produced by Puneet Balan Studios, 'Jaggu and Juliet', an Ajay-Atul musical and Mahesh Limaye's direction and camera magic, to hit the screens on February 10.
Amey Wagh is known for films such as Popat, Faster Fene, Muramba, Girlfriend. He was recently seen portraying Kushal in season 2 of Sacred Games and Rasool Sheikh in Asur- Welcome to Your Dark Side. In 2022 Amey was seen in Zombivali, Govinda Naam Mera, Mee Vasantrao and Ananya along with The Great Indian Murder on Disney Plus Hotstar.