We often picture ourselves as a celebrity or playing the protagonist in our favourite movie. We assume it is breezy and that life is a bed of roses. It turns out it is not as easy as it seems. There is a lot more than meets the eye and more behind-the-scenes work than we could ever fathom. To fit the roles of the series LSD – Love, Scandal & Doctors, the actors had to work on their bodies.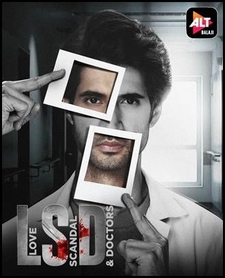 Ishaan A Khanna, who plays Karthik in ALTBalaji and ZEE5's youth thriller, said they all went on a strict diet while shooting. Ishaan A Khanna especially had to work on his physique as he also did some elements with boxing. He needed to look like physical fitness mattered.
"Apart from our intensive acting workshops we opted for a strict diet while shooting for the show as well. Once I got into the groove of it and could envision the result and see the purpose in what I was doing, I didn't mind it especially after my boxing sequence, I knew it was worth it. I started to enjoy being more disciplined. It gave me a sense of control, and who doesn't enjoy feeling like they have got it all together," said Ishaan A Khanna, Actor (Dr. Karthik)
Ishaan A Khanna plays one out of five medical interns in ALTBalaji and ZEE5's latest youth thriller LSD – Love, Scandal & Doctors, whose story follows these interns while they are thrown into the middle of a murder investigation as the prime suspects. Here loyalties, friendships, and integrities get tested.
The rest of the show includes Rahul Dev, Punit J Pathak, Tanaya Sachdeva, Siddharth Menon, Srishti Ganguli Rindani, Ayush Shrivastava, and others. The series has been directed by Satvik Mohanty and Preya Hirji.
Watch the series that is now streaming on ALTBalaji and ZEE5.