International Institute of Solutions (USA) officially launched the organization in India at a glittering ceremony held at Raheja Classic Club, Andheri (West), Mumbai. Many personalities from different walks of life and many film celebrities were present as guests on the occasion. The chief guest for the event was Mr. Arun Gandhi, Founder and President of IIS USA, accompanied by his wife Kalpana Gandhi. While Padma Shri Dr. Soma Ghosh was the special guest.
In this special program, Dr. Viral Gandhi (voxtur), Dr. Santosh Pande (Naturopath and Acupuncturist), Shriram Singh (New Age Farmer and Investment Banker), Dr. Nagarjun Vasudeo Rao (Ph.D., Genetic Engineering and Biotechnology International Exchange Program Agriculture), Jainendra Baxi Film maker writer and social activist, SMM Ausaja author historian marked their presence and were felicitated. The hard work of IIS India Co-ordinator Dr. Vijay Pratap Kushwaha (Chairman Ayurvita Healthcare) was also visible.
Prof Dr Vijay Jadhav, Miraj L Khan (Dairy Products), Siddharth Shirodkar (MD, India,Alveda), Dr MR Narayan Rao (Preventive Cardiologist & Detox Expert) were also honored at the event. If seen, people from different fields including Medical, IT, Ayurveda, Agriculture, Film world came in this program and gave full support to Arun Gandhi's organization.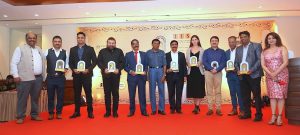 Here Dilip Sen music composer, Arvinder Singh, actor Karan Anand, Bobby Vats actor, Mini Bansal actress, Anupam Shukla, Amitabh Sinha director and film maker, actress, Pihu Chauhan actress and comedian Sunil Pal were also present here as special guests.
Actress Daljeet Kaur was anchor on stage. In this way, the evening of Sunday 18th December 2022 became a memorable evening.
Explain that most non-profit organizations work as donation-based organizations. But International Institute of Solutions (IIS), is playing an important role by doing things differently that sets it apart from other non-profit organizations. This organization is dedicated to solving all kinds of problems so that it has an impact for generations that works for the betterment of mankind.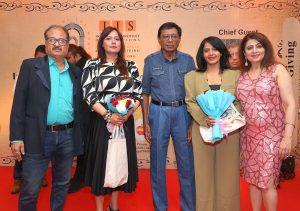 Since its inception, IIS has had one basic goal; Change the world But, the organization has now brought its transformative solutions to the country with an aim to make a significant difference in the lives of the people of India.
Mr. Arun Gandhi said that the basic principle of IIS is "Growth, not Greed". IIS believes that there are solutions that address today's crises rooted in millennia-old Indian traditions and that Western breakthroughs in business methods and technology can be used to address them. Actions can be taken to provide livelihood and entrepreneurial success to those who have been adversely affected in India.
Arun Gandhi further said that the loss of water and soil due to environmental problems around the world has hurt the small farmers the most. Will launch an initiative to train 100 subsistence farmers to grow high-value vegetables and fruits with hydroponic equipment provided by IIS, as well as pay a monthly income for one year and support education and health for their families Will support in service. In fact, these 100 families will not have any financial worries for a year. As IIS will also manage the distribution for the farmers, they will have no worries other than what they grow and sell.
Another important project of IIS Panacea Project, registered as a corporation. The institution offers high potency supplements, organic and health foods adapted to the market, Ayurveda and homeopathic medicines and literature as well as yoga, breathing and massage services in mobile vans and fixed locations with a very unique design envisioned by Mr. Gandhi will offer.
International Institute of Solutions USA plans are not limited to these initiatives. The organization believes that our hardworking farmers, craftsmen and traditional talents hold the solutions the world needs. That's why IIS is committed to providing ethical, eco-friendly solutions to the issues the world is facing right now.
All the guests who came here appreciated the work of Arun Gandhi and his organization IIS. Munde Media PR director Ramakant Munde said that first of all I appreciate the thinking of Arun Gandhi, the initiative of his organization, the steps taken by him are commendable. Also, I express my gratitude to all the celebrity guests who came here as special guests and media persons.
IIS India Coordinator Dr. Vijay Pratap Kushwaha can be contacted on phone number 81083 08005 or click on the website www.iisusa.org