Indian Idol season 11 winner Sunny Hindustani is all set to make a debut in his first live concert in UK along with Indian Idol season 10 winner Salman Ali. Accompanying them on stage, will be popular singer Choklate Pi, who got popular with his tribute to Sushant Singh Rajput – 'Tere Jaane Ka Gam'.
While Sunny and Salman have become popular recently, Choklate has released over 30 covers on his YouTube channel and has over 25k subscribers. His tribute song for Sushant Singh Rajput crossed 7 million views and he has over 82k followers on his Facebook fan page as well. Choklate has been responsible for promoting Indian Idol singers for over a decade now and has curated more than 100 live concerts and shows around the world.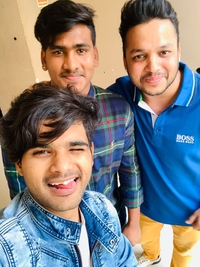 While this is a first joint concert with Salman and Sunny, Choklate had curated and opened for Salman Ali live concert in SSE Arena, Wembley, London in Feb this year too.
Choklate said, "There is abundance of unexplored talents in India. Salman and Sunny are highly skilled and have exceptional singing talent. I felt that their live concert will be a hit with Indian diaspora in UK and across the world, as the World has a huge fan following for Indian music. Hopefully, we will have more such talent from different shows and can promote it across the world. Indian music is popular but it needs to get even more popular, globally."
The concert will be live-streamed worldwide from the Indigo at the O2, London on 31st Oct, 2020.