Zeba Sajid is not new to the industry! She has designed costumes for innumerable television shows and Bollywood films and now, she has also garnered fame by producing films under her banner, Zeba Sajid Films.
So, let's know more about her in this article and also, throw light on how she designed each and every character in the film, Lihaaf.
As you know, Lihaaf is based on the controversial short story written by Ismat Chughtai in 1942 and for the first time, it's being featured in a film. Designing costumes for each and every character was challenging for the designer since not many pictures were available of that era, which ultimately means doing a lot of background study!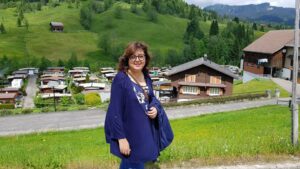 The most difficult of them all was designing Begum Jaan's costume. Zeba Sajid explains how she went on with that. She says, "We had to give Begum Jaan, a look of authentic royal Muslim lady of that era. Between 16th and 18th century, silk velvet brocade fabric with Zardozi work (sewing with gold thread) was quite popular among Mughal patronage and mostly, used by elite & royal families. So, the main hurdle was to showcase that magnificent work in this era as Begum's costume (Gharara) should look priceless & exquisite. I used pure fabric for her and did gold-plated hand embroidery. I even hand-picked jewellery for her and assembled the designs myself. I didn't make a particular set as such but just mismatched it to give an authentic look. Begum had to look beautiful & glamorous and hence, I tried to give her that magnificent look, as per the demand of the script and yes, you can see Sonal Sehgal on screen, she carried that 'Begum look' perfectly well."
Moving onto the Nawab (played by Mir Sarwar), Zeba Sajid adds, "For Nawab's look, I used plain silk and brocade fabric. Nawab is kept very simple. You'll see him mostly in Sherwani, which gives Muslim touch, paired with Chudidaar and Karakul hat. In addition to this, we have given him a neckpiece consisting of pearls & Emeralds; thereby, reflecting the royal & elite look."
Going forward, while talking about her other central characters, Zeba Sajid says, "Next comes Manto (played by Shoib Nikash Shah) and since Manto's pictures are available online, you can see that he mostly used to wear simple kurta-pajama along with specs. Keeping that in mind, we have tried to give our Manto, the same look."
"In line with this, I gave Ismat Chughtai's exact look to Tannishtha Chatterjee by doing the same neck embroidery on her dresses as was in the pictures which we were handed over by her grandson, Ashish Sawhny. In the same way, Shahid's look (Ismat Chughtai's husband played by director Rahat Kazmi) was also designed. I tried to deliver the actual look as depicted in those pictures which we got from her family," adds the costume designer-cum-producer of the film.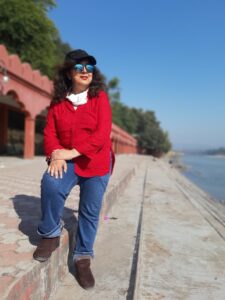 If you are wondering how many days it would have taken for the designer, from selecting appropriate materials & fabric to embroidery, stitching, completing trials in order to bring out each and every character from the short story to the big screen, let me tell you, she along with her assistant, completed all the costumes of the entire film in just 15 days!
Talking about other leading characters of the film, Zeba Sajid said, "We used artificial silk for Rabbo's look (played by Namita Lal). Keeping in mind that she's going to Nawab's house for work, we have given her a plain yet decent look. Since Rabbo had a close association with Begum Jaan, we have separated the two characters by their attire yet maintained Muslim touch by keeping Rabbo simple without any jewellery. Also, the young narrator (played by Anushka Sen) has been kept simple like children of Muslim families of that era used to be. I picked printed kurta for her, paired with plain salwar and a dupatta, which makes her appear cute and graceful at the same time."
Zeba Sajid has given full justice to all the characters in terms of appearance and the way she described the fabric, giving minute details, we can't wait to watch all of these on the big screen now. I'm sure after reading this, you'll be noticing everyone's costumes as now, you know what fabric or embroidery work has been used in the film. It's not easy to bring that era to the twenty-first century so easily but yes, hard work pays!