'Lines' a film starring Hina Khan, Rishi Bhutani and veteran actress Farida Jalal has been the subject of several headlines all along. From the 1st look of the film which was launched in Cannes 2019, Lines received a lot of public attention especially because of the famous debut of Hina Khan on Cannes Red Carpet which was covered by world-wide media platforms.
This song encompasses the innocence of such people and their sheer beauty to pull through these hardships. The song is beautifully composed and crafted by Silman and Samrat Sarkar and sung by Samrat Sarker, lyrics are jointly penned by Rahat Kazmi and Rohil Bhatia.
The film is streaming live on the premium app 'Voot Select' as one of the few films from the country which was awarded internationally and appreciated nationwide.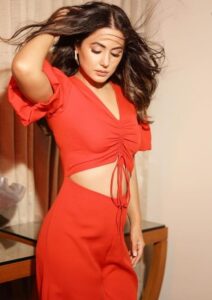 The music of this film has also been immensely appreciated by the people and another addition to the album 'Mera Sona Bachpan' is the latest released song from the film on Zee music.

The film has a very realistic yet unknown overview of the daily lives of the people living around the border lines. It beautifully shows how their life gets intertwined with the frequent losses because of the conflict.
"Lines" depicts the story of a strong young woman portrayed by Hina Khan living on the country's border (LoC) with special emphasis on her struggle and problems of daily life. Emotions don't change because of the borders in between, the life and plight of Nazia is a simple portrayal of any girl who faces the magnitude of ordinary challenges in a not so ordinary story.
The film is directed by Kashmiri filmmaker Hussein Khan, written by Kunwar Shakti Singh and Rahat Kazmi. The producers are Rahat Kazmi Films, Tariq Khan Films, Raj Kushwaha Films and Zeba Sajid Films, Co-Produced by Hiro's Faar Better Films and Alphaa Productions in Asoociation with Assad Motion Pictures and Seven 2 Creations.