&TV Happu Ki Ultan Paltan completes 600 episodes of 'gharelu' misadventures and comic tragedies of Daroga Happu Singh (Yogesh Tripathi), his 'Dabangg Dulhan' Rajesh (Kamna Pathak), and his obstinate mother Katori Amma (Himani Shivpuri). The cast and crew celebrated this milestone, dancing away to glory and cake cutting. As the show achieves a significant landmark, we list down several funny catchphrases, unique traits of characters, witty dialogues and looks that make this comedy show everyone's favourite on &TV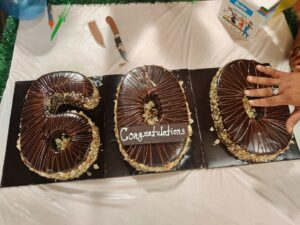 One and only one – Daroga Happu Singh
Daroga Happu Singh (Yogesh Tripathi), with his potbellied andaaz, funny hairstyle, and quirky moustache, is certainly one of the funniest and loved characters on Indian television. Apart from the look, Happu's 'Arre Dada' and his typical style of seeking 'Nyochavar' has made him people's favourite. Portraying himself as the 'sher' of the colony, Happu is often found speechless, thanks to his Dabangg Dulhaniya Rajesh and her savage comebacks.
Sabke nimbu nichodti Katori Amma
Often seen expressing her anger with the 'nimbu nichod dungi' line, Katori Amma, aka Ammaji (Himani Shivpuri), has a bitter-sweet relationship with everyone in the house. From the typical saas-bahu bickering with Rajesh to holding Happu's ears when he is wrong, Ammaji has her way of getting things done.
Dabangg dulhaniya Rajesh
While both Happu and Ammaji feel that they are the ones to have the last word, it is Rajesh (Kamna) who runs the house. From handling Happu and his misadventures, coming up with the best comebacks to Happu's one-liners, dealing with the stubborn Ammaji and managing nine kids, Rajesh adds the much-needed spice with her Dabangg attitude. It adds to the entertainment quotient of the show. A not so known fun fact is that the actor herself sings the melodious songs you find Rajesh humming on the show.
Mastikhor Paltan
The nine kids we see as Happu Ki Paltan ensure there is never a dull day! From Kate's (Ashna Kishore) broken English and obsession with the latest fads; street-smart Hrithik (Aryan Prajapati); Malaika (Jasneet Kaur)'s don't mess with me attitude; Amma's yes-man, Chamchi (Zaara Warsi), to wannabe singer, Ranbir Singh (Somya Azad), the bookworm, Ayushmaan Singh (Arnav Tata) and always crying triplets! The paltan keeps everyone on their toes! If you think handling this bunch is easy, you are sadly mistaken. They have the power to make a day go from good to bad or bad to worse!
Nayi naveli Dulhan Bimlesh
Though she is the newest entrant in the show, Bimlesh (Sapna Sikarwar) has been known to many as Beni's one-sided love for a long time. Putting an end to the anticipation, people finally got the chance to see Bimlesh and witness her marriage with Beni. Bimlesh's spirited and outspoken personality, like her sister Rajesh, brings an extra dose of drama and laughter.
In-house adviser Beni
When any problem knocks on Happu's door, he always seeks counsel from Beni (Vishwanath Chatterjee). Funnily enough, Beni's solutions often end up putting Happu's life in jeopardy. While Beni's solutions accelerate the chaos in Happu's life, he still looks up to his friend and follows his advice leaving the audience in splits. Beni has also always wanted to get married to Rajesh's sister Bimlesh. While now Beni's dream of marrying his soulmate has come true, a lot more drama and comedy will unfold in this epic comical on &TV's Happu Ki Ultan Paltan.
Continue watching your favourite Happu Ki Ultan Paltan, airing every Monday to Friday at 10:00 pm only on &TV