Hai Taubba Chapter 3, an anthology of four stories about relationships is about to be premiered soon and AltBalaji has repeated Amika Shail in the lead role after the success of 'Gandii Baat Season 5'. The first two seasons of 'Hai Taubba' were released in the first half of 2021 on the platform.
Commenting on the occasion Amika said, "The show is in the same genre as Gandii Baat. It is a compilation of stories stitched around love and as they say, everything is fair in love and war. Love does not care about societal norms, age, sexual orientation, etc. What attracted me to the show is the portrayal of a new character that I have never played before, it allowed me to challenge myself as an actor. The character that I essay on the show has a bisexual orientation and is unique."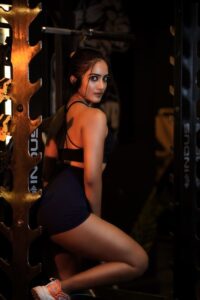 Continuing the conversation Amika says, "The show's intention is sincere – it seeks to tell a story and not sell sex, as perceived by many. It's about empowering women to object and shatter the boundaries that society sets for them to restrict their individual choices and resultant happiness. I am excited to see how the audiences react to these stories."
Amika was last seen in Disney+ Hotstar's 'Chattis Aur Maina' essaying the girl next door character of 'Dhani'.  It was a bouquet of short-format web series under the banner Quix, which provides easy viewing entertainment for the viewers. The web series is loved by the audience. People like the girl next door character of 'Dhani' essayed by singer turned actor Amika Shail. Directed by Shraddha Pasi, the series features Amika as a dancer. "It is like a dream come true. Dancing on five numbers in a single web series made me give in to the script and one tick on my bucket list. Being a singer, it was not very difficult for me to understand musical beats and grove to them.