Guneet Monga and her production house Sikhya Entertainment, have signed Umesh Bist, director of Pagglait, for the second time. Having always supported young directors, Guneet and her production house are known for picking offbeat stories and Pagglait (2021) starring Sanya Malhotra was one such success story.
Guneet Monga says, "Umesh is a prolific storyteller who has a deep and delicate understanding of human emotions, which is his USP. That's why the moving and extraordinary story of Pagglait touched the hearts of so many people. This is Sikhya's second collaboration with Umesh Bist".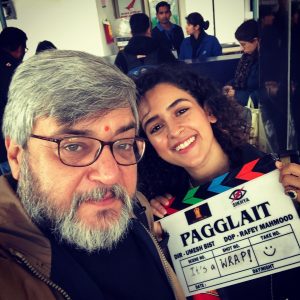 Meanwhile, Sikhya's documentary short film The Elephant Whisperers on Netflix is headed to the 95th Oscars. The Elephant Whisperers directed by Kartiki Gonsalves is the story of an indigenous couple in south India, who bonds with an orphaned elephant, Raghu, to become his caretaker. The film has been nominated among the top five documentary shorts globally by The Academy, which happens to be the third Oscar nomination for producer Guneet Monga.
Monga has previously been nominated for her short film Kavi (2010), Period. End of Sentence (where she was an executive producer) (2018) that won an Oscar and now, The Elephant Whisperers (2022).
Guneet Monga is an Indian film producer, executive producer of an Academy Award-winning short, a 2015 BAFTA nominee (for "The Lunchbox"), and the founder of Sikhya Entertainment a boutique film production house that produced notable films like Gangs of Wasseypur – Part 1, Gangs of Wasseypur – Part 2, Peddlers, The Lunchbox, Masaan, Zubaan and Pagglait.
In 2021, Guneet Monga was conferred with the Chevalier dans l'Ordre des Arts et des Lettres by the French Government for her significant contributions to Indo-French cinematic and cultural collaborations through films like The Lunchbox, Masaan, and Taj Mahal, as well as her relentless work towards women empowerment through the 'Indian Women Rising' collective. Guneet Monga has been elected as the jury for the upcoming prestigious Asia Pacific Screen Awards 2022 which was held on 11th November 2022.