Haryana's superstar Gulzaar Chhaniwala comes back with his action packed single 'Sharaab Darling' on VYRL Haryanvi. Gulzaar Chhaniwala, the multi-talented superstar, sings, composes, and writes the captivating song in his unique style! Gulzaar Chhaniwala's 'Sharaab Darling' has received 3.7 million views till date and still counting.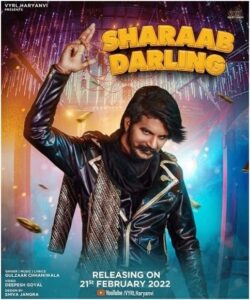 'Sharaab Darling' is a song based on thrill and action where Gulzaar plays the role of a contract killer who is on a mission to kill his targets in a club. With dhamakedar desi beats, this one is a baarat and a club banger of a song and video. Gulzaar perfectly portrays the role of a killer who smartly plans his action in a club full of people.
https://www.youtube.com/watch?v=NXxI9IFoK2A
Gulzaar Channiwala, who hails from a lesser-known village in Haryana called Bhiwani, has taken the Haryanvi music business by storm and is now one of the most recognised Haryanvi celebrities. Filter Shot, Desi Bill Gates, Kasoote, Middle Class, Dada Pota, and Chain Sone Ki, to name a few, are some of his most popular songs. Gulzaar's Sharaab Darling presented by VYRL Haryanvi, is set to be a smash blockbuster.
Thrilled about his new song Gulzaar Chhaniwala said, "Sharaab Darling was a blast to work on, and I hope it finds a special place in everyone's heart. Working with the VYRL Haryanvi team has been a pleasure, and I look forward to working on many more projects with them in the future."
The song is sung by Gulzaar Channiwala who has also composed the music, written the lyrics along with Mixing & Mastering. Deepesh Goyal is video director and editior, DoP Bhanupratap, choreography by Amit Syal, assistant choreographer Ankita Thapa, assistant directors Ashish Khomera, Moksh Suryavanshi and Vicky, Action Director is Mukesh Kamboj, styling by Rajat Manchanda, hair & make-up by Sanju, publicity design by Shiva Jangra and Sumit Bamal.