Some of the content based Marathi films have always attracted the attention of the audience due to their unique and catchy titles. As a consequence of the charm of the title as well as the authentic essence of the story, Marathi films have taken a huge leap across the seas and hoisted the Marathi flag in various international film festivals. Gulhar, one of them, will soon be seen by the audience. The motion poster for the upcoming film 'Gulhar' has just been launched.
'Gulhar' has been produced under the banner of Ideal Venture and R. K. Films launched by Shantaram (Appa) Medage, Shivaji Bhintade, Anup Shinde and Abid Syed. After working as an assistant director for many films, Ramesh Chaudhari, who did the direction of the film 'Baabo', has directed 'Gulhar'. The title has aroused curiosity as to what exactly Chaudhari, who has the knack of presenting a different aspect to the audience through the film, has tried to show in 'Gulhar'. The recently released motion poster has made it even more tense. There is something unique about the motion poster of this movie. Motion Poster launches Ideal Venture and R. K. Films were presented under this name. The motion poster moves forward with exciting music. This is followed by a blank black board with the tagline 'Goshta Eka Unad Manachi' followed by the title 'Gulhar'. Suddenly something happens that breaks down the wall with the black board and at the same time cracks the black board also. This motion poster of 'Gulhar', which arouses curiosity about what exactly is happening and what will be seen in this film, is currently the subject of discussion everywhere.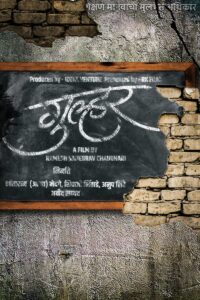 In short, the story of teaching kindness to animals by blowing trumpets against customs will be seen in 'Gulhar'. The story is portrayed through the point of view of an 11-year-old boy named Gulhar. The film stars Vinayak Poddar, Ravi Kale, Bhargavi Chiramule, Suresh Vishwakarma, Madhav Abhyankar, Kishore Chougule, Rukmini Sutar, Shivani Bawkar, Shivaji Bhintade, Anup Shinde, Manjiri Yashwant among others. The story of the film is written by Mohan Padwal and the screenplay and dialogues are by Sanjay Navgire, Photography and compilation by Kumar Dongre. Music Director Padmanabh Gaikwad has composed the songs and Vishal Patil has done the choreography. Kedar Divekar has scored the background music while sound design by Nikhil Lanjekar and Himanshu Aambekar. Shashi Bhalerao and Subhash Hande have done the work as production managers. This film 'Gulhar' is all set to release soon.