As the release date of the Marathi film, 'Gulhar' is approaching, there is an atmosphere of curiosity among the audience. As the features of this film are gradually being introduced to the audience, the curiosity about what exactly will be seen in it has increased. The song in the film sung by singer-composer Ajay Gogavale have also come to the notice of the audience. Video Palace has recently released the song 'Abhalane Pankh He Pasarle …'. The film will be released across Maharashtra on May 6.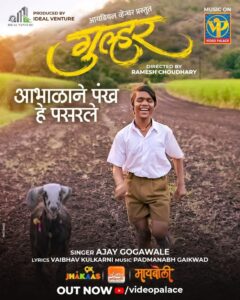 Under the banner of Ideal Venture, producers Shantaram (Appa) Medage, Shivaji Bhintade, Anup Shinde Abid Sayyed have produced 'Gulhar'. 'Gulhar' is directed by Ramesh Sahebrao Chaudhary. Ajay Gogavale's song 'Abhalane Pankh He Pasarle …' has finally been performed in front of the audience. The song is written by Vaibhav Kulkarni and composed by composer Padmanabh Gaikwad. Simple wordings and music of the same peer are the plus point of this song. Ajay Gogavale has expressed the feeling that this song is very different from his career today and it gives a lot of heartfelt joy. Ajay also says that the music of this song is very heart-touching. The film tells the story of an 11-year-old boy.
Mohan Padwal has written the story of 'Gulhar', which has won important awards at various film festivals in the country and abroad. Sanjay Navgire has written the script and dialogues. Ravi Kale, Bhargavi Chiramule, Vinayak Poddar, Madhav Abhyankar, Suresh Vishwakarma, Kishore Chowgule, Rukmini Sutar, Shivani Bawkar, Ganesh Kokate, Kapil Kadam, Pushpa Chaudhary, Shivaji Bhintade, Anup Shinde, Manjiri Yashwant, Swapnil Landage, Reshma Phadtare, Sachin Malwade, Devendra Vayal, Ganesh Shitole and other actors have portrayed various personalities in this film. Composer Padmanabh Gaikwad has composed the music for the songs in the film. Vishal Patil is the choreographer, while Kumar Dongre is the cinematographer and editor. Background music is by Kedar Divekar and sound design by Nikhil Lanjekar and Himanshu Ambekar. DI Yogesh Dixit and Amar Lashkar is the project head of the film. The film is set to release on May 6 across Maharashtra.