National Award winner actor Girish Kulkarni and actor Om Bhutkar will be seen together in upcoming film RAVRAMBHA along with Monalisa Bagal. RAVRAMBHA will unfold a historical Love story. Girish Kulkarni and Om Bhutkar have done films like Deool and Faster Fene together but for the first time they will work together in historical film.
Om Bhutkar will play Rao and Monalisa Bagal will essay Rambha whereas the character of Girish Kulkarni is still under the wrap.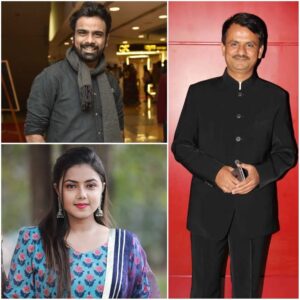 Shri Shashikant Sheela Bhausaheb Pawar of Shashikant Pawar Productions is producing RAVRAMBHA – The Great Warrior of 1674. Anup Ashok Jagdale, who has done excellent films like "Bebhan", "Zhala Bobhata", "Bhirkit", "Current", is directing this film. The film has been written by Pratap Gangawane, who has a knack for telling historical stories. The shooting of the film will start next month December and will be done in Satara district. For the first time Historical film will be shoot in Satara District.
In the golden pages of history, RAVRAMBHA is also a unique love story hidden in the Sahyadri coming to the silver screen for the first time Mavla standing on the background of Chhatrapati Shivaji Maharaj is seen on this very eye-catching poster which has created curiosity about the film.
Girish Kulkarni  is a recipient of two National Film Awards namely, National Film Award for Best Actor in 2011 for his performance in Deool and National Film Award for Best Screenplay for the same film. Om Bhutkar is known for his work in the Marathi film industry. He won the National Film Award for Best Child Artist Award for his debut movie, Chhota Sipahi (2005). He is known for Faster Fene (2017), Ajoba (2014) and Mulshi Pattern (2018). Monalisa Bagal made her film debut in 2016 with film Prem Sankat directed by Datta Mirkute. She is best known for her work in Marathi film Zhalla Bobhata followed by Dry Day movie.