The teaser of the upcoming Marathi movie 'Saath Sobat' has been released recently. The teaser of 'Saath Sobat' which has released on social media is getting a lot of response from the netizens within a short period of time. After watching the teaser, one realizes that National Award winning director Ramesh More has presented a different plot in the film 'Saath Sobat'. This new movie will hit the screens on January 13, 2023.
Presented by Prasanna Vaidya, 'Saath Sobat' is produced by Dhanji Maru under the banner of Maru Enterprises. Ramesh More has written as well as directed this film. Sameer Dixit and Rishikesh Bhirangi of Pickle Entertainment will look after the distribution of the film across Maharashtra. The teaser of 'Saath Sobat' has its own special features. Just one dialogue from the teaser, by the protagonist is also very exciting. After watching the teaser, there is a feeling that we will see a technically competent film in the form of 'Saath Sobat'. Its picturesque nature is mind-blowing. It is clear from the teaser that the film's biggest plus point will be the beautiful camerawork, picturesque locations and effortless acting by the talented actors. In this film, a love story from a village will be seen. The real beauty of this film is the simple, naive love story away from pretentiousness. Along with the love story, there is also an important message hidden in the film. Sangram Samel, which has succeeded in making its mark in all three mediums namely serials, films and plays, is playing the lead role. He is paired with debutant actress Mrunal Kulkarni. So fans will get to experience the unique chemistry of the new pair in 'Saath Sobat'. The film has benefited from the creative direction of Ramesh More, who has directed films that have become famous at the national and international level.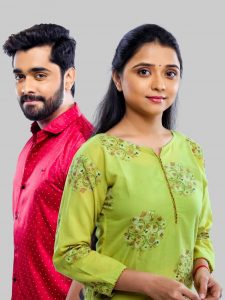 The movie 'Saath Sobat' also stars Rajdutt, Mohan Joshi, Anil Gavas, Amol Redij, Dilip Asurdekar and other actors along with Sangram-Mrunal. Cinematography has been done by Harshal Kantak and editing by Abhishek Mhaskar. Lyrics penned by Yashshree More have been composed by music composer Mahesh Naik. Background music has also been given by Mahesh Naik. Yashshree More has also handled the responsibility of costumes in this film. Santosh Chari and Satish Bhavsar have done the Makeup. Along with dance choreography, Meenal Ghag has also done the hairstyling and Prakash Kamble has done the art direction. Kaushik Maru and Yashshree More are the executive producers of the movie 'Saath Sobat'.